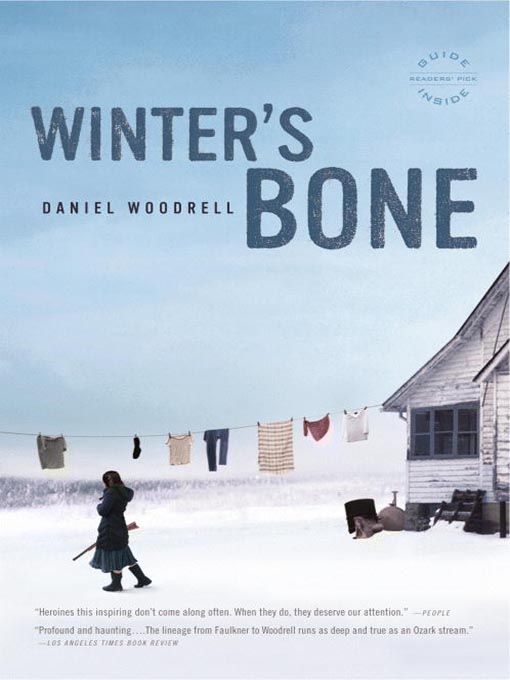 Ree Dolly's father has skipped bail on charges that he ran a crystal meth lab, and the Dollys will lose their house if he doesn't show up for his next court date. With two young brothers depending on her, 16-year-old Ree knows she has to bring her father back, dead or alive. Living in the harsh poverty of the Ozarks, Ree learns quickly that asking questions of the rough Dolly clan can be a fatal mistake. But, as an unsettling revelation lurks, Ree discovers unforeseen depths in herself and in a family network that protects its own at any cost. -Amazon
Winter's Bone
by Daniel Woodrell is a complete departure from novels that would normally draw me in, but, I made it my business to deliberately gain a new perspective this year. I think I've discovered a new favorite writer.
In this mysterious Southern Noir, Daniel Woodrell tells the story of a seventeen year old girl named Ree Dolly, who is tasked with the great challenge of finding her father before his court date, or else she, her mentally challenged mother, and two brothers will lose their home in the wild and rocky Ozarks. Winter's Bone will not coddle you with heartwarming sentiments, and promises of unity, no; but it will dig deep into you, revealing a protagonist with more heart and spirit than has been seen for a long while. Daniel Woodrell's protrayal of Ree Dolly is inspired with her unwavering strength and determination to take care of her family against her distant relatives who would seem to rather see them homeless in blistery winter, than break their stubborn pride and unspoken rules.
This is definitely a difficult story to read, and I admit that if it weren't for Daniel Woodrell's beautiful writing, and ability to create heartfelt layers with subtlety, I may have put the book down. But Ree Dolly's journey amazed me, showing a true example of what one can achieve when put in position to have to stand. The abuse she endures at the hands of her own family, both distant and close, could have broken anyone, let alone a teenaged girl with ambitious hopes to join the army and travel the world. Tender moments with Ree teaching her brothers to cook, hunt, and take care of themselves, further twisted my heart for their situation. I loved the dynamic between Ree and her Uncle Teardrop. Teardrop is such a layered and intriguing character who is often forceful, but seems motivated by his desire to protect Ree and his family. I see the same conflict within many characters in the novel, somehow ensnared by their desire to keep the unspoken rules of their family sacred, and yet remain humane to those around them.
What really caught me off guard was Daniel Woodrell's writing. Now that I think about it, I'm not sure what I was expecting, but not the lyrical, picturesque poetry that captured perfectly the beautiful, untamed, and often treacherous landscape (and people) of the Ozarks. I loved that the family Woodrell portrays carries historical ties to the land, and has their own mythology about their beginnings. In the past, I haven't taken very well to dialect, but Woodrell captures a wonderfully melodic voice that does not distract, but further enhances the world of Winter's Bone. I'm not sure why Daniel Woodrell does not garner more acclaim and popularity than he does. He's fantastic.
Bare in mind: Winter's Bone contains profanity, violence, sensuality, and disturbing scenarios.
Whether you're a Southern Gothic Lit fan, or looking to read a thrilling, and complex story that will grab hold of your heart, I can't recommend Winter's Bone more. It's like a writers dream.

I give Winter's Bone by Daniel Woodrell five out of five cups of Irish Breakfast.
P.S- Don't forget to enter my giveaway for JUST ONE YEAR by Gayle Forman! I can't believe in a few short weeks, I'll have a copy in my hands!
A Word on the Film Adaptation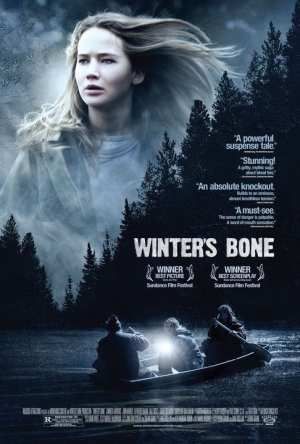 Initially, watching the film led me to the book, as I found myself transfixed by it's beautiful cinematography, and scenic views (blame tumblr for my newfound love of the great outdoors). As with most film adaptations, certain elements are changed, but not enough to change the actual story. Jennifer Lawrence is absolutely brilliant as Ree Dolly, capturing her strength and determination. I have heard around that the film changed her siblings to a brother and sister after having found two children who lived where they filmed. This was a beautiful choice. It seems as if the kids aren't even acting, but living their lives. They were adorable.
The movie is a bit of a bummer to watch with the subject matter and all, but I recommend it. That being said, I do feel like the book lends a more personal experience, but I'm guessing this is the case with all books.