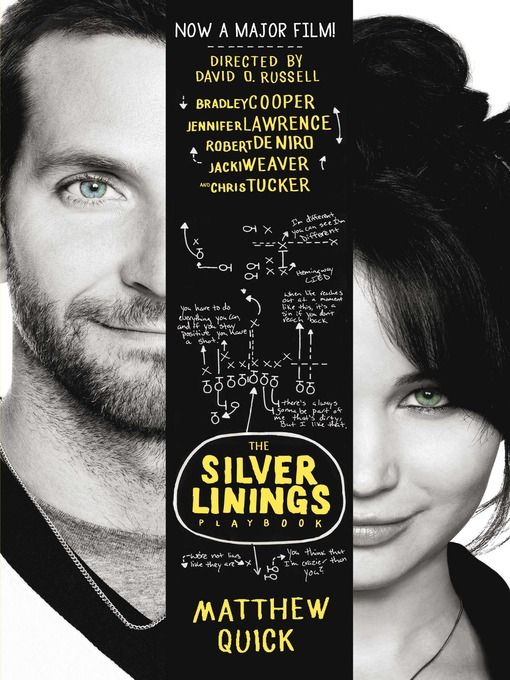 An enchanting first novel about love, madness, and Kenny G. The Silver Linings Playbook is the riotous and poignant story of how one man regains his memory and comes to terms with the magnitude of his wife's betrayal. During the years he spends in a neural health facility, Pat Peoples formulates a theory about silver linings: he believes his life is a movie produced by God, his mission is to become physically fit and emotionally supportive, and his happy ending will be the return of his estranged wife, Nikki. When Pat goes to live with his parents, everything seems changed: no one will talk to him about Nikki; his old friends are saddled with families; the Philadelphia Eagles keep losing, making his father moody; and his new therapist seems to be recommending adultery as a form of therapy. When Pat meets the tragically widowed and clinically depressed Tiffany, she offers to act as a liaison between him and his wife, if only he will give up watching football, agree to perform in this year's Dance Away Depression competition, and promise not to tell anyone about their "contract." All the while, Pat keeps searching for his silver lining. In this brilliantly written debut novel, Matthew Quick takes us inside Pat's mind, deftly showing us the world from his distorted yet endearing perspective. The result is a touching and funny story that helps us look at both depression and love in a wonderfully refreshing way.

-Amazon
Dear Blue,
I hope this letter finds you most ecstatically happy!
You know those people in your circle who maintain an almost ridiculous sense of optimism? A kind that almost makes you cringe, but once you're alone, you almost admire them for their bravery when it all looks to be a waste? That, my friend, is who you'll meet in Pat, the guy Matthew Quick wraps and packages for you in
Silver Linings Playbook
.
In the novel, Pat's come home from a mental health facility, with one mission: to win his wife, Nikki, back by a series of exercises, book lists, and good deeds. He has such a childlike assurance that there is a set time where seeming bad luck fades away, leaving only the precious silver lining. Matthew Quick paints a true to life scenario of what it must feel like to live with bipolar disorder on a daily basis, which I found really touching. How brave is it to deal with a life that triggers uncontrollable outbursts, but continue to try with all of your might to be the best you can be? That's what I call pulling yourself up by your bootstraps (truthfully, I get this turn of phrase, but it's also a little ridiculous…). I found Pat's interactions with his disconnected father, overbearing yet lovable mother, spirited brother, supportive psychiatrist (Cliff is one of my favorite characters in the novel), and newfound question mark, Tiffany, to be one of a kind. Matthew Quick executes clever wit and insight in a way that will most definitely charm, and make your heart ache a little. Almost every interaction is striking, or painfully awkward in the most beautiful and unique way, I couldn't help but give him credit because oftentimes reality is 'Did I really just say that?' painful.
I watched the film before I ever knew it was an adaptation, and I approached the novel looking forward to experiencing how Matthew Quick paints the relationship between Pat and Tiffany. It was a brilliant hot mess in the film! What I discovered, however, was something very different from the film. Tiffany is still very bold, but infinitely more solemn a great deal of the novel. In fact there are huge chunks of silence in the book that really surprised me. I wanted into Tiffany's head more than we actually delve in, however, I came to realize near the end of the novel how much Pat and Nikki truly need each other. You will come to view bowls of Raisin Bran, dance competitions, and cloud formations in a different light, I'll tell you that.
That being said, you might not like this novel if you aren't a crazed football fan. These characters chant for the Eagles more than a child for sweets. In fact, whilst reading the book, I found myself in an Inception-esque scene, when Pat, his father, and brother are going wild for the Eagles, and my father is doing the exact same thing in our living room (*looks both ways, and whispers: Run!*). I did feel the need to skim a lot of these scenes because it became a bit repetitive.
Bare in mind that this novel contains profanity, and adult content/scenarios.
Silver Linings Playbook is one I think every outsider should read…and that's literally everyone who's ever lived. If you ignore the football (unless you love it), and dismiss the moments where you find Pat out of his mind with childlike faith, you may come to find that by the end your own faith is growing as well. We all need good old fashioned faith, and in order to keep on living, it might as well be ridiculous.

Let's have 4 cups of tea and chat about it!
Love, Britta
P.S.- If you're wondering who on earth Blue is,
click here
for an introduction to my renewed way of writing reviews, and thanks so much for reading.