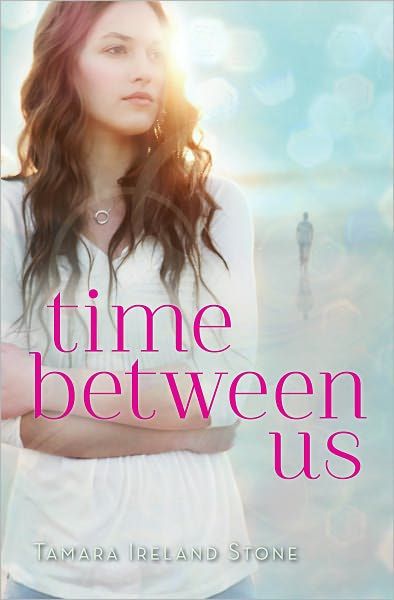 Anna and Bennett were never supposed to meet: she lives in 1995 Chicago and he lives in 2012 San Francisco. But Bennett's unique ability to travel through time and space brings him into Anna's life, and with him, a new world of adventure and possibility. As their relationship deepens, they face the reality that time might knock Bennett back where he belongs, even as a devastating crisis throws everything they believe into question. Against a ticking clock, Anna and Bennett are forced to ask themselves how far they can push the bounds of fate—and what consequences they can bear in order to stay together. Fresh, exciting, and deeply romantic, Time Between Us is a stunning and spellbinding debut from an extraordinary new talent in YA fiction. -Amazon
After experiencing
My Name is Memory
by Ann Brashares, I ventured to find other novels centered around time travel, and the like. I was not disappointed with
Time Between Us
by Tamara Ireland Stone. And look at that cover...it's gorgeous!
First off, I found it quite intriguing that Stone would chose to place her story between present day and 1995. I loved that she chose a year that is not immediately associated with something huge, aside from its obvious musical awesomeness! Anna and Bennett are wonderful to experience. Anna is a girl who longs to experience life away from her small town, but feels as if it is a long shot. Meanwhile, Bennett, the mysterious new guy in her class, has been gifted with the ability to time travel. They are immediately drawn to each other, though not in an off putting way, and Anna's world opens to new realities she never expects.
I loved that Stone makes Bennett's ability, along with his and Anna's association with each other, unpredictable and intricate. Bennett's ability has constraints that test he and Anna's time together, and I loved the challenge.
That being said, I was a bit disheartened with the ending. Now, I'm sure that all of you who have read the novel are probably wondering what's wrong with me. There is, by no means, anything truly wrong with the ending. But, one of the things I admired about this novel, was that Stone showed the beauty of choosing your own path in life. As much as I love heartwarming endings, I thought it very refreshing where it seemed to be leading. Even so, the ending does not take away from one of the beauties of this novel, that we should not allow anything, or anyone, to hold us back from truly living life.
Time Between Us
by Tamara Ireland Stone is a beautiful love story, with an even more beautiful lesson that nothing should stop us from voraciously living life.
I give Time Between Us by Tamara Ireland Stone 4 out of 5 cups of Irish Breakfast.