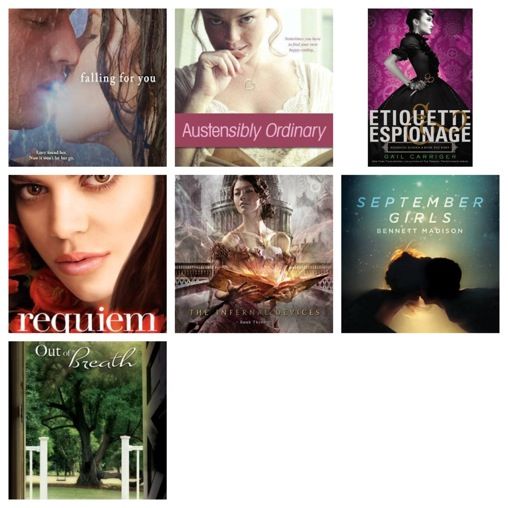 Falling For You
by Lisa Schroeder: I fell in love with Lisa Schroeder's writing when I discovered
Chasing Brooklyn
, and was blown away by
The Day Before
. She writes special novels, and I can't wait to read this one! And she's decided not to write this one in verse, which will be wonderful to experience!
Austensibly Ordinary
by Alyssa Goodnight: Although I didn't read Ms. Goodnight's
Austentatious
, I'm still very excited to delve into a world where us 'ordinary' gals can have chance experiences with Jane Austen. The premise of these novels remind me of Lost in Austen, and nothing else warms my heart like it.
Etiquette & Espionage
by Gail Carriger: Over the latter half of this year, I've fallen into a steampunk phase. This series seems an intriguing way to get my steampunk fix, whilst finally experiencing the writing of Gail Carriger.
Requiem
by Lauren Oliver: I know I'm not the only one looking forward to seeing how Lena fares through this revolution, and who stands with her in the end: Alex or Julian. This is one series where the right man is hard to choose.
Clockwork Princess
by Cassandra Clare: When this releases, I will race to the bookstore on release day to pick up this gorgeous conclusion to a fabulous series!
Team Will.
Jem is a sweetheart, but...Will all the way.
September Girls
by Bennett Madison: I have long wanted to tread into mermaid territory, and there are many awesome titles out at the moment. This one caught my attention because of its' male author. I can't wait to experience this kind of magical romance from a male perspective. Plus, I think the cover is magnifico!
Out of Breath
by Rebecca Donovan: This release makes me so happy. Why, you ask? Because I experienced
The Breathing Series
from the beginning. My very first interview for Novel Days was with the wonderful Rebecca Donovan, and to watch her now step into the big leagues with her first major release makes my heart sing. I, like so many of her fans, cannot wait to see how this stunning conclusion will render us breathless!
Isla and The Happily Ever After
by Stephanie Perkins: This year, I was most surprised at how this series took my heart and ran. And I cannot wait to experience Isla, as we both seem have have like romantic sentiments. I can't wait to see how Lola, Cricket, Anna, and Etienne are faring.
What awesome releases are you looking forward to next year?