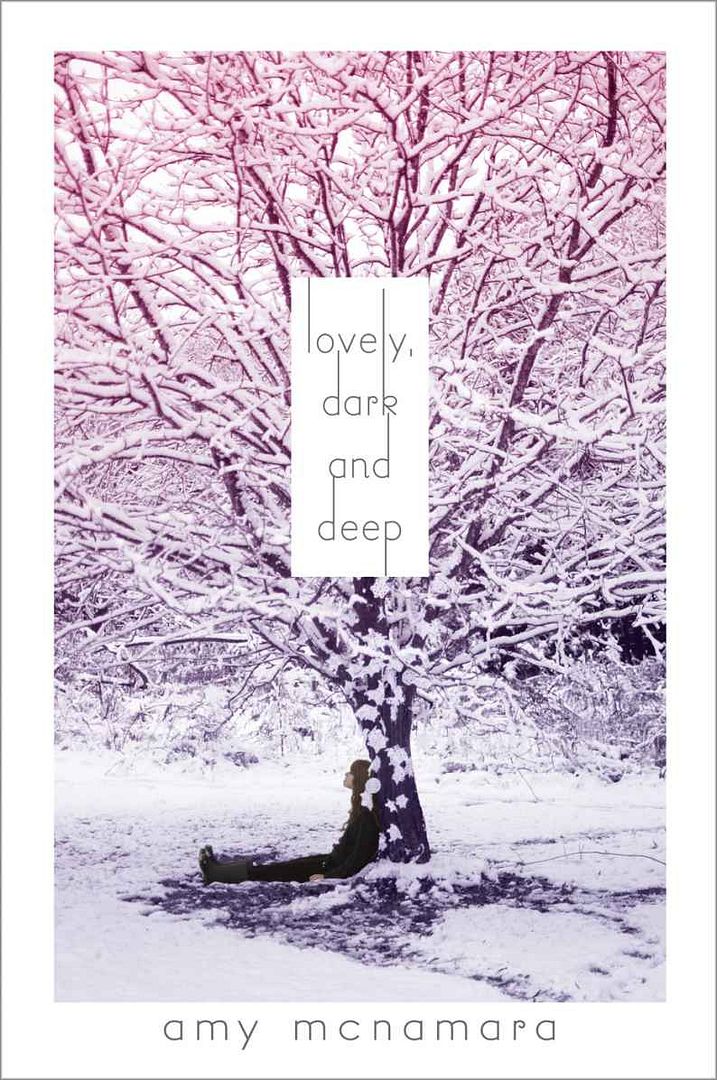 A resonant debut novel about retreating from the world after losing everything—and the connections that force you to rejoin it. Since the night of the crash, Wren Wells has been running away. Though she lived through the accident that killed her boyfriend Patrick, the girl she used to be didn't survive. Instead of heading off to college as planned, Wren retreats to her father's studio in the far-north woods of Maine. Somehwere she can be alone. Then she meets Cal Owen. Dealing with his own troubles, Cal's hiding out too. When the chemistry between them threatens to pull Wren from her hard-won isolation, Wren has to choose: risk opening her broken heart to the world again, or join the ghosts who haunt her.
-Amazon
When I walked into Barnes & Noble, I was stunned by this quite beautiful cover, and knew I had to have it in my library. More particularly, I find I love novels written by poets, as the prose is something of an enchantment.
Lovely, Dark and Deep,
is the story of a young girl learning how to live again after trauma, and I had a pleasant experience with a
little
disappointment towards the end.
First off, I have to say that Amy Mcnamara is a beautiful writer. The way she describes the wintry forest that surrounds Wren is inviting and magical. It made me want to experience it for myself. I loved how this environment seemed to mirror Wren's mental state. When she felt as if she were coming out of the haze, the snow around her carries Christmas joy, but as she dips between happiness and grieve, it becomes a cold, lifeless shell. I've a weakness for writers who discuss other authors/books in their own, and McNamara supplies us with a great group of poets whom Wren connects with. This novel is steeped in art, as Wren is a photographer, and her father is a renowned artist. One of the profound questions I gathered through my reading is, how does an artist find other outlets when the very thing they turned too doesn't seem to pulse anymore?
I enjoyed reading Wren's experiences with grief, and her growth process. Mcnamara describes this realistically, and I could sympathize with her ups and downs. There were moments that felt so haunting, it reminded me of The Bell Jar by Sylvia Plath. I didn't see Wren's surprise secret coming, and it added all the more to the impact of her fragile state.
Being a sucker for good romance, I melted when Cal came into the picture with his genuine care and attention towards Wren. The chemistry they have is pretty awesome. But as the novel progressed, there were times I felt a bit suspicious of him, especially after one occasion (which you'll know when you come to it!). There were moments where I felt I wanted more from them, as if perhaps they could have been further fleshed out. Cal and Wren seem to move at a steady pace one moment, and then so fast that I felt a little worried. Perhaps this is simply the movement when two people are both dealing with traumatic issues. I also felt that I wanted a bit more time focussed on Cal and his issues. I felt that his own situation was wrapped up a bit too easily...especially by the end.
Bare in mind: Lovely, Dark, and Deep contains disturbing scenarios, sensuality, and profanity.
Lovely, Dark, and Deep is a partial New Adult book. Lets support NA Authors! It is a beautiful portrait of grief, and I do recommend the experience.
I give Lovely Dark and Deep by Ann McNamara 3 1/2 out of 5 mugs of Tazo Chai.