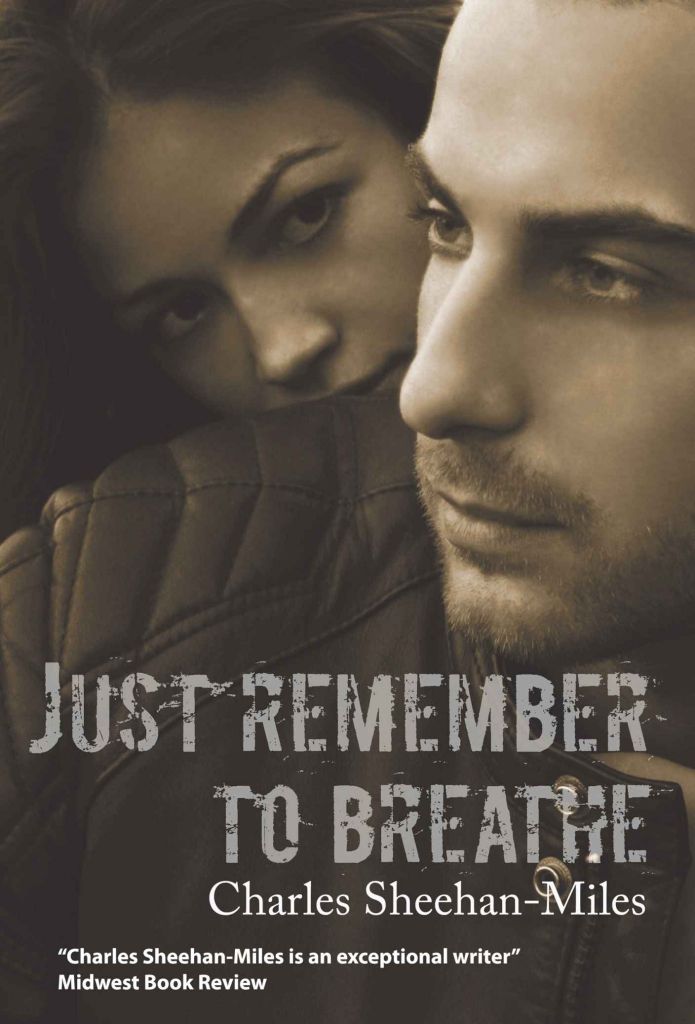 Alex Thompson's life is following the script. A pre-law student at Columbia University, she's focused on her grades, her life and her future. The last thing she needs is to reconnect with the boy who broke her heart. Dylan Paris comes home from Afghanistan severely injured and knows that the one thing he cannot do is drag Alex into the mess he's made of his life. When Dylan and Alex are assigned to the same work study program and are forced to work side by side, they have to make new ground rules to keep from killing each other. The only problem is, they keep breaking the rules. The first rule is to never, ever talk about how they fell in love. -Amazon
It rarely happens that I'm perusing through Amazon, come across a novel and finish reading it in a day, but ladies and gents, with this novel I was compelled until the last word. I also must say that this is a stunning cover!
Just Remember To Breathe
by Charles Sheehan-Miles is an utterly beautiful New Adult novel about two people who meet whilst on a trip to Jerusalem, but have reality to contend with when the trip is over.
What I love most about this new adult novel is that it is a romance, but its also about Dylan who is a young war veteran, and has a pretty harsh life experience. I think the NA genre could possibly fall into a kind of predictable slant if it does not also portray young people who experience these off the beaten trail life experiences, and I appreciated most that Sheehan-Miles decided to write a novel about the impact of being a young Veteran. Dylan is a wonderful character to discover. The things that he encounters makes him very believable and organic. It's wonderful when characters do not read as a character model, they feel real right from the start. Sheehan-Miles effectively portrays the fragmented mental state of a young veteran, and the guilt that often comes with great tragedy.
Alex comes from an affluent family of scholars, and she has her future already planned out. I appreciated that she did not seem to be held back by her familial acumen, she seemed very forward and knowledgeable about her goals and place in life. Of course she has moments of frustration with her family, but it's really nice to experience a character who does not seem to be trapped by what their future may hold. Alex goes through many a challenge during her first year and a half of college, and handles it with and admirable strength and vulnerability. Sheehan-Miles did an excellent job of developing Alex' character. I'm often interested with how male writers portray female characters and vice versa, and I loved that he made Alex vulnerable, at times broken hearted, but also strong in the midst of trauma. Likewise, Sheehan also portrayed Dylan as a mans man, but in a human, emotional way that I know women will appreciate.
Dylan and Alex together are pure magic. Their chemistry pulls you in and compels you to discover the challenges of their relationship. This novel contains loads of that angst that I (I know I'm not the only one!) love in a romance, but it is not angst for angst sake. Nothing ever feels too melodramatic or overdone. When they're loving, it's awesome, when they're screaming, even through misunderstandings, its justified, and when they are vulnerable, it is wonderful.


Bare in mind: Just Don't Forget To Breathe contains profanity, sexual content, violence and some disturbing scenarios (e.g. War, and assault.)
Just Don't Forget To Breathe is such a great novel. Even with its heavy themes, it is also filled with light hearted flirtation, great comedic supporting characters, and best of all, romance! I'm thinking it has gained a slot on my examples of quality New Adult writing that will make this growing genre a force to be reckoned with.
I give Just Remember To Breathe by Charles Sheehan-Miles 5 out of 5 cups of Irish Breakfast.