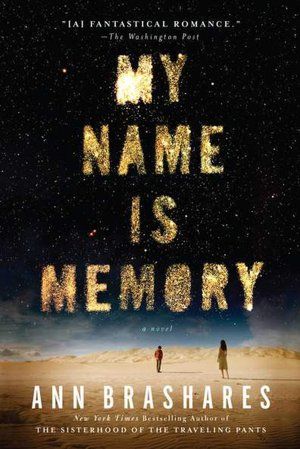 Daniel has spent centuries falling in love with the same girl. Life after life, crossing continents and dynasties, he and Sophia (despite her changing name and form) have been drawn together-and he remembers it all. For all the times that he and Sophia have been connected throughout history, they have also been torn painfully, fatally, apart. But just when Sophia (now "Lucy" in the present) finally awakens to the secret of their shared past, the mysterious force that has always separated them reappears. Ultimately, they must come to understand what stands in the way of their love if they are ever to spend a lifetime together.
*Car Screech* I know what you
Fallen
fans are thinking. Two people, named Daniel and Lucy, in a love affair spanning the dawn of time.... Sounds a bit familiar to me. I thought the same thing. But, Ladies and Gents', this is a whole other ball game.
My Name is Memory
by Ann Brashares is my first read of hers, and I was delightfully surprised. This novel is one of the best romances I've ever read. Brashares turns the, at times, overused theme of star crossed love into something fresh, intriguing, and gripping.
My Name is Memory read like a historical epic, jumping from the present, to several time periods spanning a thousand years. It is written partially in Daniel's point of view, and partially in Daniel/Lucy close third person pov. I had such a great experience with Daniel's personal pov! Brashares successfully captures a voice filled with the weight of ancient knowledge, while simultaneously allowing for the vulnerability and clever attitude of a 18-24 year old guy. It has a haunting quality to it, as Daniel experiences multiple harsh lives. It is also rich in lush detail of the ancient city of Constantinople, Cappadocia, England, and many more beautifully depicted histories.
Lucy's (Sophia) aspects of the story were also intriguing, and I loved how she discovers who Daniel really is as the novel progresses. Can you imagine what it would be like to have someone come up to you and reveal that they have loved you throughout the ages? Such a wonderful premise. It was great to experience a character who is unknowledgeable of the full scope of things, seeing as the novel is steeped in Daniel's knowledge.
Brashares does not paint a romantic picture filled with sap and warm fuzzies. This romance is heavy with the weight of certain harsh realities this world can carry. There are moments that are so heartbreaking I could cry for Daniel and Lucy. Out of all of their past histories, I most connected with that of Daniel and Lucy as Constance. It was so emotional and sincere, I couldn't stop thinking about it.
This novel is one that I could see becoming quite a beautiful film someday.
The only things I didn't love about this novel are it's pacing and it's ending. There were moments in the novel that I felt were a bit dragged out. Perhaps one of its intents was to show you an example of how Daniel and Lucy feel to wait for perfect circumstances. But at times, I just wanted to grab Daniel by the hand and say, Dude, please...there she is, tell her that you're here so you both can frolick into the sunset. In terms of its ending, I have to say, I did actually like it. But it made me wish there were a sequel. After doing some research inquiring of a sequel, I discovered that, though intended to be a trilogy, dwindling book sales have caused the publishers not to push for it. Let's turn their minds around guys!
Bare in Mind: My Name Is Memory contains sensuality, profanity, and the subject of reincarnation.
My Name is Memory gave me the same feeling I had whilst reading The Fault In Our Stars by John Green. It's beautifully written, romantic, smart, and reads like a modern classic. There were so many underline worthy ponderings on life and love, I'll have to reread to get them all down.
I give My Name Is Memory by Ann Brashares 4 out of 5 cups of Earl Grey.