Spotted is a Feature on Novel Days where I spotlight books which I discover whilst about town.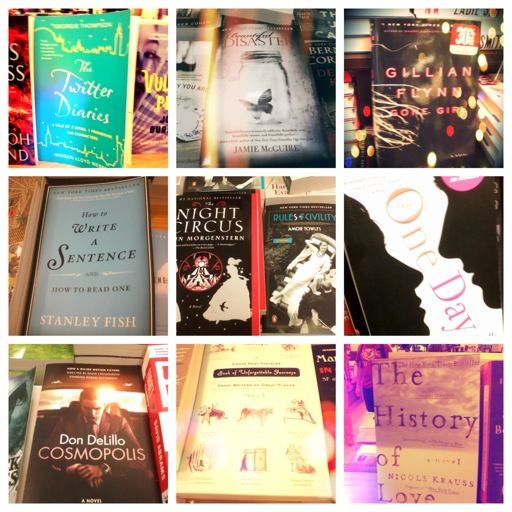 The Twitter Diaries
by Georgie Thompson: An entire novel written in the form of twitter updates. I wanted to turn up my nose at this, but I couldn't help but think of how fun this could be. Not to mention, it takes a good writer to write a compelling plot within 140 spaces.
Beautiful Disaster
by Jamie McGuire: I believe I caught on to this novel some months before it caught fire amongst readers/bloggers everywhere. It's comparison to
Fifty Shades
is almost completely wrong, but the one way that they link is the self published/independently published factor. It's novels like these that make me so excited to self publish my own novel. A few years ago, who would've thought that it was possible for a self published author to gain a spot on
The New York Times Bestseller List
? Seeing this novel in a bookstore made me smile!
Gone Girl
by Gillian Flynn: I watched this novel float from tweet to tweet for almost a full week. How can I ignore such craze? I think I'm the only one who hasn't read it yet. What do you guys think about this novel? I'm game for a good mystery...as long as it isn't drawn out.
The Night Circus
by Erin Morganstern: I started reading this about a month ago, and now I'm ready to jump back into it. I've heard the most magical things about it, and the more I see it around, the more I would love to take a journey to a real life night circus (if such exists).
Rules of Civility
by Amor Towles: Today, I picked up this promising gem as an early birthday present. One of my best friends and fellow bluestocking, Casee Marie from
Literary Inklings
, has consistently recommended this novel to me until I couldn't resist any longer. There's just something about the 30s and 40s that I'm fascinated with. It seems as if even daily life was romantic back then. I'm really looking forward to this one.
One Day
by David Nicholls: This. Book. In my
review
of it, I talk of how this novel wracks my brain. Whenever I see it, I feel a mixture of awe, sadness, and irritation. Dexter will do that to you...that ending will do that to you.
Cosmopolis
by Dan Delillo: I'll admit that I've only turned my eyes to this novel because of my dear, Robert Pattinson. I tried reading it while I was still in Wales, and it certainly seemed like our generations'
Ulysees
. I'm curious to read more, as I enjoyed the sound of the dialogue after seeing a few scenes from the movie. It is so slow and calculated. I'm almost sure that it's our version of Shakespearean language. I'm looking forward to discovering the meaning of each word.
The History of Love
by Nicole Krauss: So, I've had this novel trapped in my closet for the past 2 and a 1/2 years. I've heard pretty mixed reviews, but this quote:
"Once upon a time there was a boy who loved a girl, and her laughter was a question he wanted to spend his whole life answering."-
-keeps me hopeful. One of my great missions as a writer is to discover new ways to write about and describe the act of loving someone, and this novel seems a treasure trove of inspiration. What do you guys think?
What awesome reads have you spotted around lately?