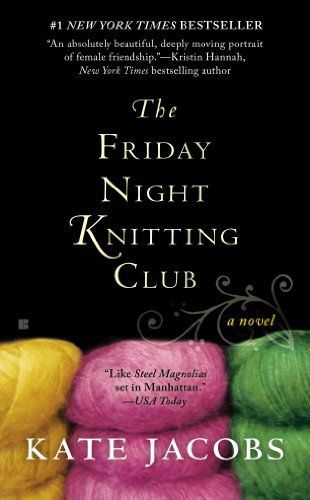 Once a week, an eclectic group of women comes together at a New York City yarn shop to work on their latest projects—and share the stories of their lives… At the center of Walker and Daughter is the shop's owner, Georgia, who is overwhelmed with juggling the store and single-handedly raising her teenage daughter. Happy to escape the demands of her life, she looks forward to her Friday Night Knitting Club, where she and her friends—Anita, Peri, Darwin, Lucie, and KC—exchange knitting tips, jokes, and their deepest secrets. But when the man who once broke Georgia's heart suddenly shows up, demanding a role in their daughter's life, her world is shattered. Luckily, Georgia's friends are there for encouragement, sharing their own tales of intimacy, heartbreak, and miracle-making. And when the unthinkable happens, these women will discover that what they've created isn't just a knitting club: it's a sisterhood.


Dear Blue,


In a sea of deadpans and sarcasm, sometimes we need a potent dose of heart, one of those stories that hits you like cupid's arrow.
The Friday Night Knitting Club by Kate Jacobs
is your very own prescription to laugh and crumble under your fair share of tears. Maybe even start a knitting club of your own!
The Friday Night Knitting Club tells the story of Georgia Walker, a single mother and owner of Walker and Daughter, a small knitting shop on the Upper West Side of Manhattan. Through the store's weekly knitting club, we meet Georgia's ambitious preteen daughter, Dakota, sophisticated mentor and mother figure, Anita, up and coming fashion designer, Peri, producer, Lucie, and Darwin, a graduate student currently writing her dissertation on the reemergence of knitting in women's lives. We also meet a plethora of other intriguing characters like Cat, Georgia's high school best friend, and James, the man who broke her heart years before.
To sum it up, I think that this novel is like an ABC Family/Hallmark Channel movie that you shrug off, but once you end up giving in, you feel lighthearted and overly emotional. At times, Kate Jacobs' writing can become a bit formulaic, the plot lines a little obvious, however she is a master of crafting characters who shine so fully that nothing else matters. I loved 'meeting' these characters, learning their stories, and journeying with them through their struggles. I especially loved Georgia's strength, and her ability to persevere when she could have run crawling back to her parents. How cool would it be to own a knitting shop right in the heart of the city? As much as I love the way I can meet people online and fangirl over our favorite things, it would be awesome to have a place to chat over these things in real time.
What I loved most was the use of knitting as a conduit for friendship, for self discovery, and for accomplishment. Whether each character succeeds at their own personal knitting projects or not, it's amazing that something like knitting can create an atmosphere of healing. In the midst of such pivotal moments, Kate Jacobs sprinkles knitting nuggets of wisdom throughout, including a pattern and recipe at the end of the novel.
Bare in mind: The Friday Night Knitting Club contains slight profanity and adult content.
Sometimes we don't need a literary treatise. Sometimes we need a good story with great characters to lift our spirits. This novel may just be the hug, and warm cup of tea that you need. It sure was for me.

P.S. Remember my letter where I
raved about Katniss' fashions in Catching Fire
, and posted a passing thought that I might learn to knit her cowl? Well, I'm ecstatic to tell you that I totally succeeded in that goal. And in less time than I thought was possible. The story of my knitting journey's coming soon, Blue!
Hugs and love,
Britta