Sartorial Lit is a feature at Novel Days that combines fashion with fiction.
Dear Blue:
Happy Cyber Monday! I hope that you had such a blessed Thanksgiving, and that if you chose to come out with the hordes of people seeking sales on Black Friday, that you were safe.
I spent loads of time with family, ate pretty much everything, and was surprised with a third showing of Catching Fire (I didn't plan it, I promise! I've got an estimate of two more showings with my Dad and a Friend...What?! I promise I'm not crazy!). With each viewing, something else pops out at me that I may have missed. Yet, each time, the one thing that stood out clearly was that if I had access to Katniss' wardrobe, I would jump in, and no one would see me ever again!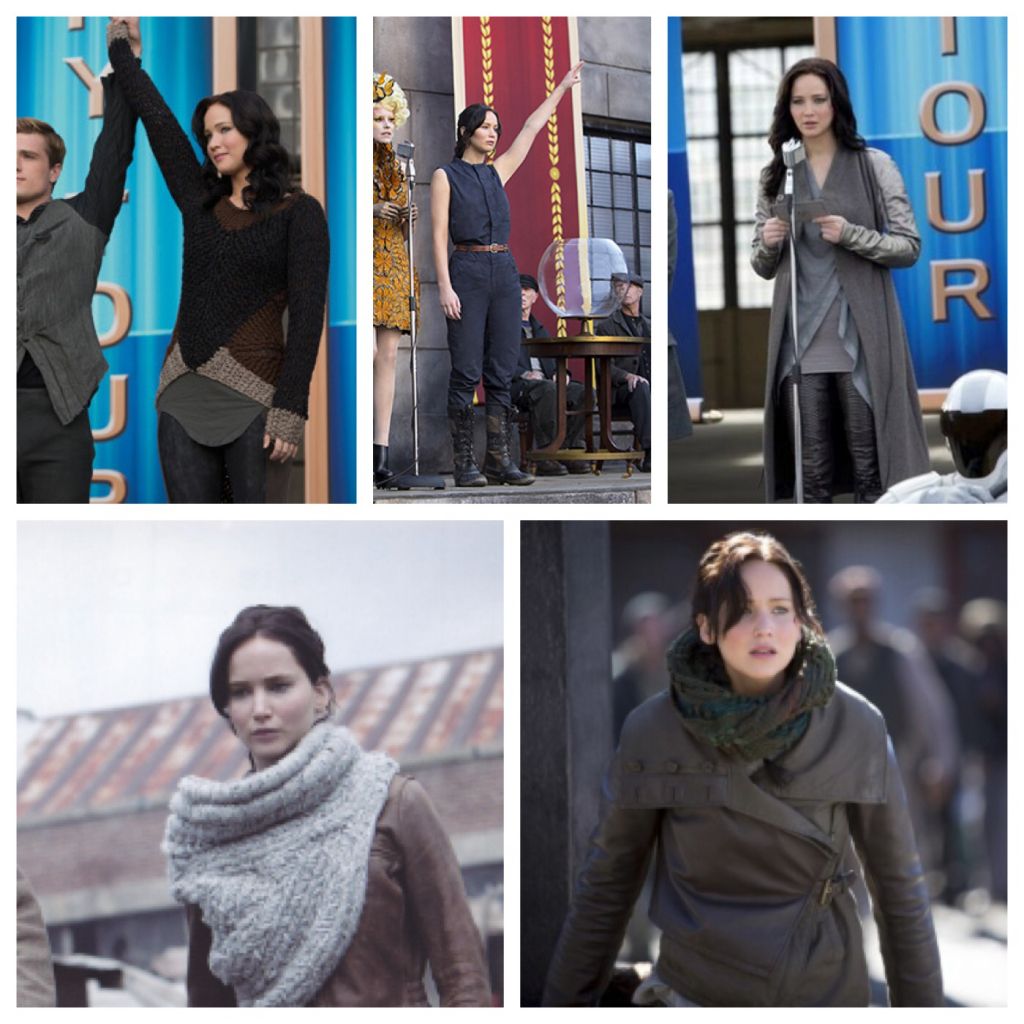 I tend to be a person who can see loads of possibility for my summer wardrobe. It's light, airy, and you don't need to shield yourself from often frightening cold. However, over the last few years or so, I've come to realize how possible it is to be fashionable, stay warm, and be comfortable all at once. I love over-sized sweaters, and cowl necks, and huge scarves, and what do you know,
Trish Summerville
, the costumer for
Catching Fire
, loves them too! Here's what I found whilst perusing Polyvore for Victory Tour Inspired looks:
Catching Fire coloring ranges from mutes to vibrant reds. It's quite a somber story that Trish Summerville so expertly executes by allowing wardrobe to correlate with Panem's District muted spectrum of colors. It goes without mentioning that Katniss' Capitol Couture is the stuff of dreams, but I found myself drawn to her wardrobe in the Victory Tour as it most links with the clothes you and I might wear on an everyday basis. Trish Summerville has such talent in showcasing Katniss' new status as victor through wardrobe, while capturing her character so that nothing seems over done as it might in the Capitol. I loved Katniss' asymmetrical knit sweaters, leather/knit combos, coats with huge collars and cowl necks. You can pair either of these items with form fitting jeans, or quality made leggings, and leather boots. Can you feel that, Blue? The feeling of a rainy Saturday, with your favorite comfy sweater and a Gingerbread Latte? (I never liked Gingerbread Lattes, but Starbucks' new recipe is not to miss!).
The most coveted item in Katniss' wardrobe seems to be her Cowl Neck wrap! I wish that I could find one in stores, but at the same time, I feel that this wrap, along with every other knit piece, captures a District 12 handmade spirit. It would probably mean a whole lot more to you if it were handmade, be it by you, or someone else. Etsy has a few
listings
for this shawl (
1
|
2-Pattern
), and if you're more ambitious (I'm looking at you Gabbie), one of my good friends, Casee, sent me the link to
Ecouterre's
free patterns for it. Does this pattern seem like a novice could dive right in? I'd love to know.
(I was unable to find an adequate translation for Katniss' reaping suit, which I adore. Also her knit nightgown worn during the beautiful scene where she asks Peeta to stay with her after having a nightmare. If you find something, please, drop me a tweet :-)
.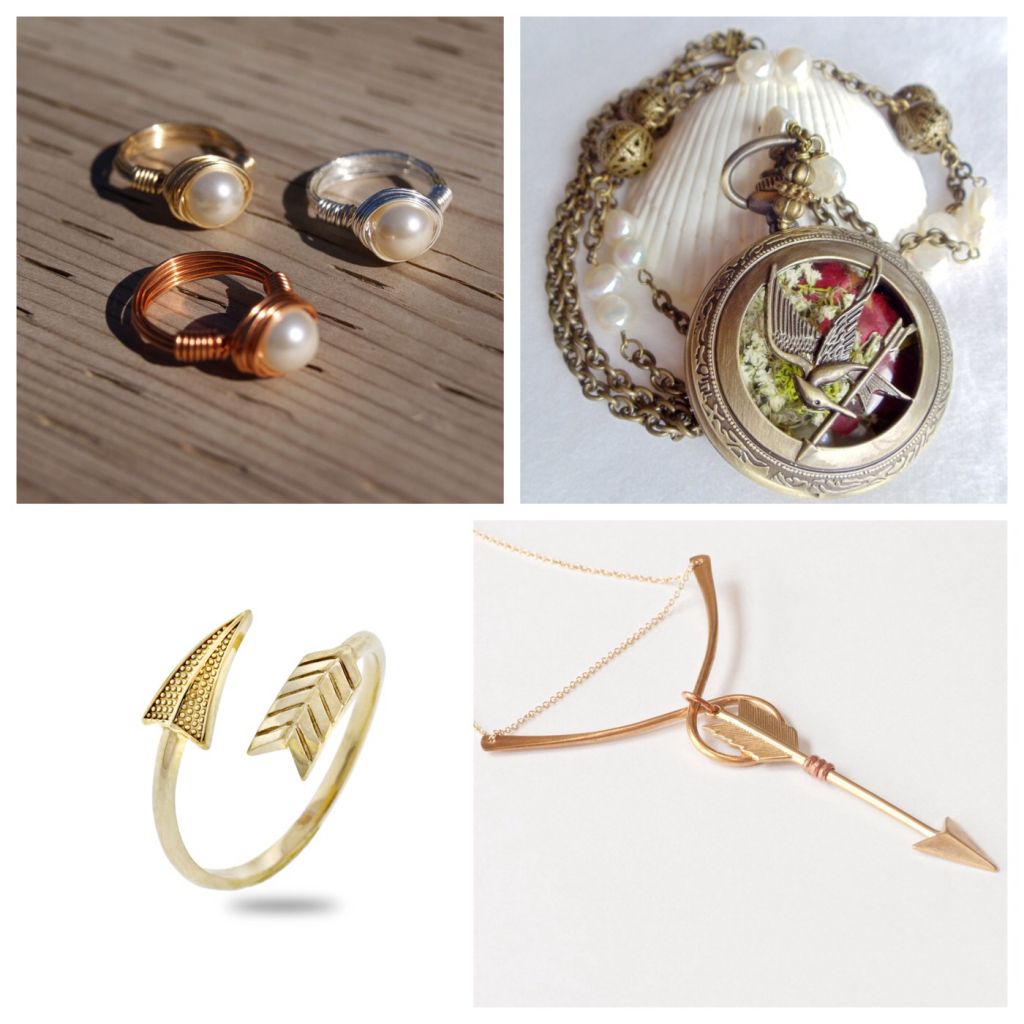 One of my favorite pastimes is collecting subtle bookish accessories. Of course, I swoon over Hot Topic's movie merch like every other fan out there, but, there's something about wearing accessories, and ascribing meaning to it that won't automatically call you out as that crazed Hunger Games Fan! If you love bookish accessories, Etsy is literally a treasure trove of special trinkets to boast your lit love. In terms of recreating some of Katniss' iconic looks, I would pair my outfits with burnished golds, silvers, metallic's. Simplistic items that aren't overly gaudy or dripping in sparkle. Antique lockets like the one above which has freeze dried rose petals and baby's breath inside of it (How poetic is that?). Incorporate pearls with a twist of burnished metals, or simplistic bow and arrows. They're all just enough to fan over, but not enough to make you look a bit odd at work.
Once again, I hope that you enjoyed Catching Fire as much as I did, and I pray you have a wonderful week, Blue!
Love,