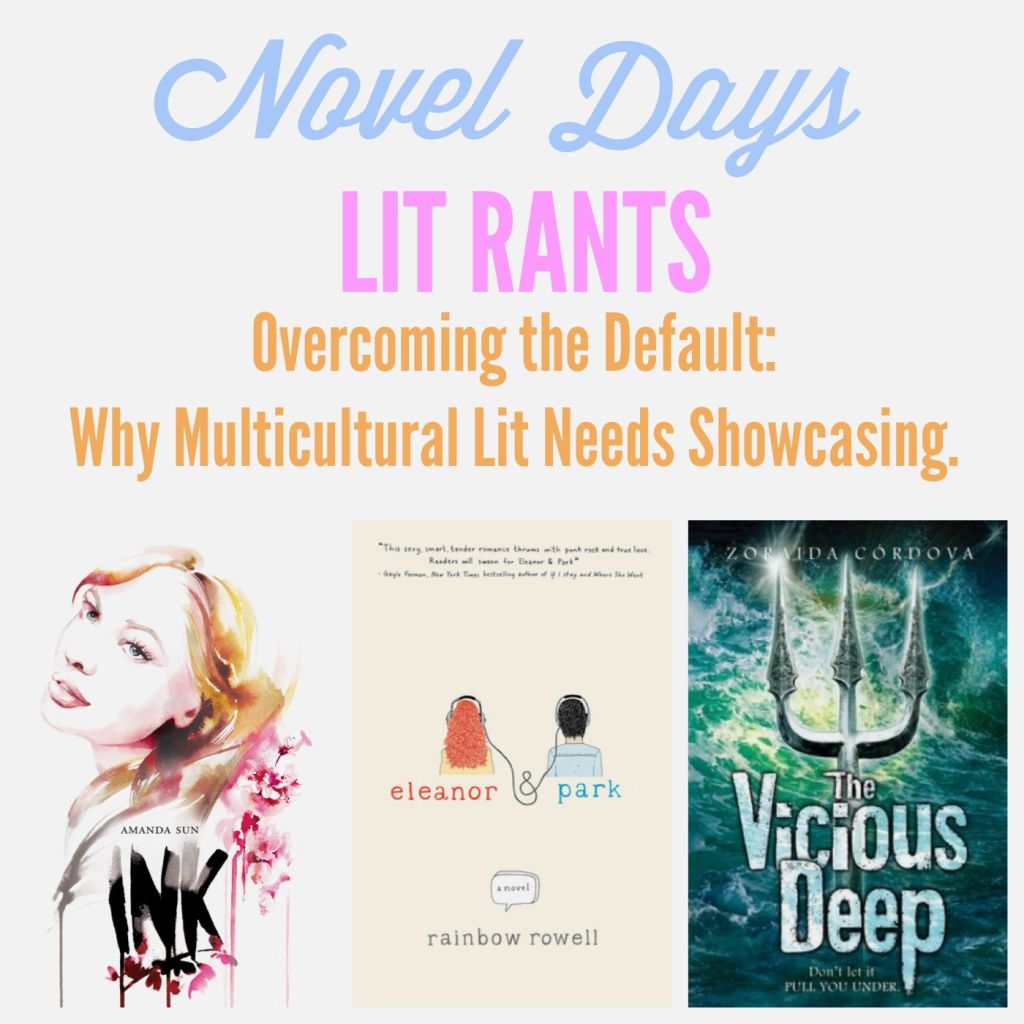 Over the past year I noticed two occurrences where authors were questioned or applauded on their decision to make main characters multicultural. Zoraida Cordova was thanked by one of her fans for making the love interest in her series
The Vicious Deep
, half Ecuadorian, half Greek, and she also discusses what it is to be an Ecuadorian woman writing fantasy in her guest post for
Diversity in YA
. While Rainbow Rowell, author of what could be the most loved young adult novel in 2013,
Eleanor and Park
, addressed a question that some wondered regarding why Park is Korean, to which she delivers the best answer:
"Because Park is Korean."
I don't believe that these questions are even asked in a malicious way, but they are a clue that we see so little Multi-Cultured characters in our novels that it makes us wonder what made the author deviate from the norm. Then there are occurrences where showcasing characters as a different ethnicity meets challenge, e.g. the unbelievable
controversy
over young Rue in
The Hunger Games
being cast as a young black girl, when Suzanne Collins herself describes her as having dark brown skin. I admit that whilst reading
The Hunger Games
before the film, I wasn't even paying attention to many of the different descriptions of characters because it's ingrained in my mind that most will be Caucasian. Upon discovering Amandla Steinberg was cast, I thought she was the most adorable girl! But seeing the challenges this met with, plus rediscovering that the character was painted as having a different ethnic background, it made me question what exactly the problem is.
We don't, hopefully, go around asking our friends or associates, "Hey, why are you black, or Irish, or Puerto Rican...." so why should our literature only boast one race or cultural background? The peeve that I have with any form of questioning like this is the media's saturation of one look, one culture, or one place being the default. If the world comes in a variety of 'settings' why accept one default as normal? It shouldn't have to mean that an author is being 'gimmicky' by adding a character of a different race or background into their story. They are merely presenting the world that we live in. Every one is not white, blond, or blue/brown eyed, or comes from the Western World. We all range from the palest of creams, to the deepest of chocolate browns, and they all should be showcased in fiction, especially Young Adult.
While reading Ink by Amanda Sun, I realized that part of my overwhelmingly refreshed response to it was due to the fact that the setting is Japan, and the main love interest and most supporting characters are Japanese. Traditional tropes in any genre can become cliched if the same molds are used, but when intertwined in different cultures, countries, or ethnicities, can become startlingly fresh.
As an African American writer, I wonder why some in the world think it strange for me, or any one who isn't Caucasian, to write fantasy, or off the beating path. My question is, why not? I am a black woman who's always loved reading fantastical tales, but have found it lacking in diversity. It can be so alienating to read books where no one looks like you, or has similar experiences to yours, and can often exacerbate stereotypes that may exist for some cultures and ethnicities. I remember being so excited whilst reading
The Perfect Chemistry
series by Simone Elkeles, to read about Hispanic main characters tackling stereotypes around them, and the similarities that, at the end of the day, bring us all together.
Why can't there be African American/Caribbean fairies, or Hispanic vampires, or Bi-Racial Hogwarts students? Why can't we discover what its like to be an Aboriginal Australian girl/guy in a YA adventure, or have an Icelandic heroine, or an old fashioned treasure hunt in Africa with a Nigerian protagonist? A Taiwanese prince? Who lives in Greenland...what happens there? As much as we adore Britain (my own novel is set in London), or Paris and Italy, I also want to discover something new. Showcasing more novels where these differences are celebrated can make a world of difference in the minds of readers everywhere. It will give the world something new to discover about the people around them.