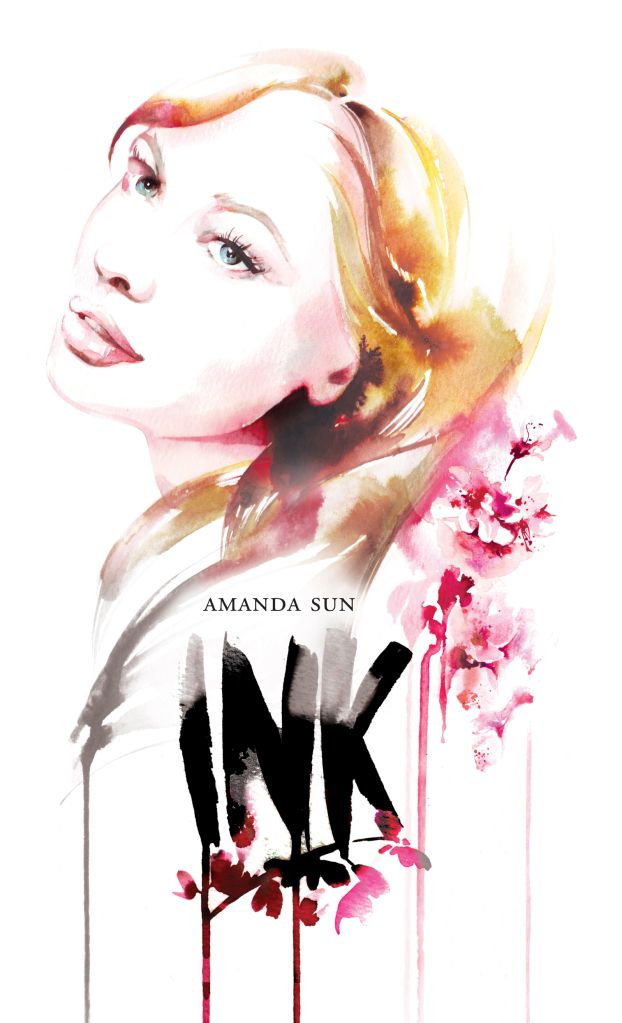 Ink is in their blood. On the heels of a family tragedy, Katie Greene must move halfway across the world. Stuck with her aunt in Shizuoka, Japan, Katie feels lost. Alone. She doesn't know the language, she can barely hold a pair of chopsticks and she can't seem to get the hang of taking her shoes off whenever she enters a building. When Katie meets aloof but gorgeous Tomohiro, the star of the school's kendo team, she is intrigued by him…and a little scared. His tough attitude seems meant to keep her at a distance, and when they're near each other, strange things happen. Pens explode. Ink drips from nowhere. And unless Katie is seeing things, drawings come to life. Somehow Tomo is connected to the kami, powerful ancient beings who once ruled Japan—and as feelings develop between Katie and Tomo, things begin to spiral out of control. The wrong people are starting to ask questions, and if they discover the truth, no one will be safe.
-Amazon
Before I started
Ink by Amanda Sun
, I had hit a pretty rough book slump. Ink revitalized the beautiful feeling of what reading a great book is all about: new discoveries, and falling into a new world that made me a little sad to leave once finished. Also, look at the gorgeous cover. I had no idea I was going to purchase this book, and then I turned, and this cover drew me towards it like kids to an ice cream parlour.
Ink is about a sixteen year old girl named Katie who, after her mother's death, is forced to move to Japan with her Aunt Diane. While in Japan, Katie finds herself faced with the challenge of assimilating into the pulsing Japanese culture, as well as in the midst of a supernatural mythology come to life. Cue the enigmatic Tomohiro who's aloof and seeming cocky attitude piques Katie's curiosity after she experiences his drawings come to life right on the page. She learns that Tomohiro is connected to the kami, the very powerful ancient rulers of Japan, and that somehow the ink that Tomohiro has a hard time controlling is further impacted by her presence.
On the surface, Ink is your classic supernatural romance. It has your outsider, your mysterious heartthrob, and the inexplicable pull that ties them both together. But what makes Ink an entirely new reading experience is Amanda Sun's resonating portrayal of Japan. Sun infuses vibrant descriptions of young life in Japan with its language, strong sense of history and folklore pervading every detail. These additions can turn a seeming cliched idea into something fresh. I loved that with no introduction, Sun throws Katie into the heart of Japan. We're immediately faced with how different life is for Katie as she encounters the language and customs that come with being a Japanese student. I also loved Katie's interactions with her new friends Tanaka and Yuki who show her the ropes and become a sort of family to her. Katie's relationship with her Aunt Diane is also touching as we observe their growing friendship in the midst of a traumatic situation.
Katie and Tomohiro's relationship is beautiful and layered. They fuse together as outsiders, and are forced to toddle through their shared connection to the Kami and the challenge this poses. Through them, we also experience quite beautiful scenes where Tomohiro's drawings come to life in front of them...glittering and sinister. I love how Sun weaves a thrilling premise in regards to the forces who would like to wield Tomo's power, some for good, others...not so much.
Ink is full of beautiful illustrations by various artists that help to pull you into the beautiful world of Japanese art/calligraphy and folklore. If you flip through the novel, eying the bottom right margins, there are also cool flip animations that I thought were clever additions to the novel. I've also heard that if you purchase the ebook, certain portions of the novel are, in fact, animated? If so, that's just awesome!
Bare in mind: Ink contains profanity, violence, and some sensuality.
Ink allowed me to experience Japan in unexpected ways. By the end, I felt I'd traversed Sunpu Park, observed Tomo's drawings outside of ancient temples, memorized Kanji, took train rides past Hiroshima, and enjoyed time spent with friends over bentous full of amazing food. I read a quote on GoodReads that a good book can make you homesick for a place that you've never been, and Ink is that book. Though I wished more questions were answered, I know that this promises a thrilling ride with the next book due out in 2014!
If you're as 'homesick' for the world of
Ink
as I am, or you'd like a taste of Katie and Tomohiro's life just before she arrives in Japan, read Amanda Sun's wonderful prequel, Shadow on
Kindle
/
Wattpad
for FREE for a limited time!!!

I give Ink by Amanda Sun five out of five cups of Milk Tea.
{P.S. This novel helped me to make the decision that's been circling around my life for a while...I'm learning Japanese!}