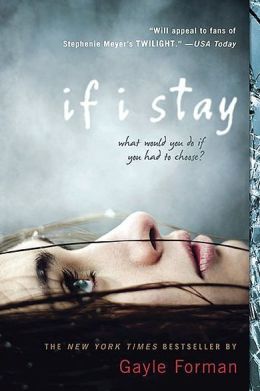 The critically acclaimed, bestselling novel from Gayle Forman, author of Where She Went, Just One Day, and the forthcoming Just One Year. In the blink of an eye everything changes. Seventeen ­year-old Mia has no memory of the accident; she can only recall what happened afterwards, watching her own damaged body being taken from the wreck. Little by little she struggles to put together the pieces- to figure out what she has lost, what she has left, and the very difficult choice she must make. Heartwrenchingly beautiful, this will change the way you look at life, love, and family. Mia's story will stay with you for a long, long time.
-Amazon
This summer, I hoped to tackle novels that have been so highly recommended that it's a shame it's taken me so long to get to them. After reading
Just One Day
, I just knew that I would fall in love with
If I Stay
as well. The premise of having an outer body experience is pretty fascinating, so I thought that the novel would be jam packed with insightful quotes about life, love, and music (as Mia is a cello player, and her parents former punk musicians).
I found myself drawn into Mia's voice and her interactions with her family immediately during the first chapter. But unfortunately, as the story progresses I found myself becoming a bit bored. I hate this feeling, especially of a writer that I truly love. I wanted to fall in love with this story so bad. I felt for her situation because I know that it is dire, but I wanted more of an emotional connection with Mia, her family, and the other characters. I did love reading of Mia and Adam's relationship, but I wanted more of them as well. I also loved reading about Mia's experiences developing as a cello player, and all the other musical bits of the novel! I'm a sucker for musical bits in any novel! But all around, I found certain parts to be a bit redundant after a while.
Bare in mind: If I Stay contains profanity, some sensuality, and disturbing scenarios.
If I Stay
by Gayle Forman promises a compelling story full of heart, and although I caught twinges of heart, I wanted more. That being said, I'm actually really excited to read the sequel,
Where She Went
! I remember seeing
Where She Went
when it released in bookstores, and wanting to purchase on sight, until I realized it's a sequel. I can't wait to delve into that one, and I hope it delivers more of the heart I expected in
If I Stay
. I'm also looking forward to seeing this adapted into a film, starring the lovely Chloe Moretz!

I give If I Stay by Gayle Forman 3 out of 5 cups of Chai Tea Latte.