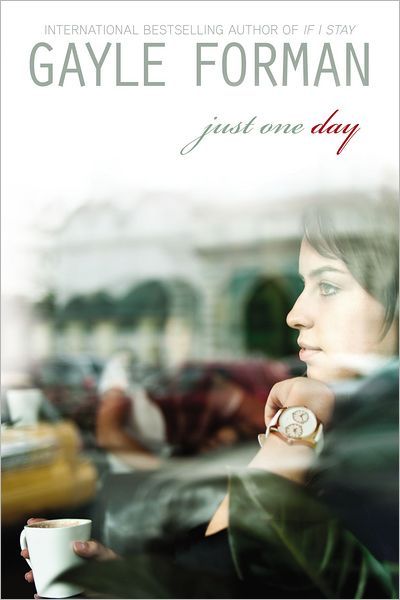 A breathtaking journey toward self-discovery and true love, from the author of If I Stay When sheltered American good girl Allyson "LuLu" Healey first meets laid-back Dutch actor Willem De Ruiter at an underground performance of Twelfth Night in England, there's an undeniable spark. After just one day together, that spark bursts into a flame, or so it seems to Allyson, until the following morning, when she wakes up after a whirlwind day in Paris to discover that Willem has left. Over the next year, Allyson embarks on a journey to come to terms with the narrow confines of her life, and through Shakespeare, travel, and a quest for her almost-true-love, to break free of those confines. Just One Day is the first in a sweepingly romantic duet of novels. Willem's story—Just One Year—is coming soon! -Amazon
Before this novel released, I was filled with the same inexplicable feeling that I had about
The Fault In Our Stars
by John Green, that this would be something to savor. Let me tell you, I was right. Gayle Forman's popularity stems from her novel's
If I Stay
and
Where She Went
, but I, unfortunately never got the chance to read these. I'm happy that my first experience of Forman is
Just One Day,
because it will surely be one of the most beautiful love stories of 2013. It gives me the fuzzies!
Just One Day chronicles the experiences of Allyson, who takes a summer trip to Europe with her best friend, Melanie, and is forever changed when she crosses paths with dutch actor, Willem, who takes her on a once in a lifetime trip to Paris for a day. I really loved Allyson, as I found her entirely relatable. I think that many will connect with her because she wants to break free and experience a new side of herself. I adored her European journey, especially as I made a similar journey myself. She experiences what I think every person has dreamt of at least once in their lives: to meet a perfect stranger, and connect with them in a way they never could have comprehended.
Willem is the 'perfect' enigmatic stranger. He's intelligent, he's an actor, and he lives life day by day, soaking in every experience...every happy 'accident'. I was drawn to the mysterious sides of him, I wanted to pick his brain and stay there for a while, but I found him equally frustrating. I thought that there could have been more explanation of his life, and his reasonings for doing and living as he does. Nevertheless, I think if more explanation is offered, the story may lose some of its intrigue. With the second installment of this story in Willem's point of view, Just One Year, releasing at the end of the year, I definitely wouldn't want to be spoiled for that! I loved that he is perfect, and flawed, and that Forman intertwines Shakespeare's most lauded wisdom ("All the world is a stage, and all the men and women merely players...") to weave a beautifully human story. Each little nugget given as the story unfolds is so well done. Nothing is what it seems.
Allyson's relationship with her best friend, Melanie, is realistic and a little heartbreaking. I could pin point the challenges that they would have from the first chapter, challenges that come as one moves from teenager to adult. I found myself very frustrated with Melanie, at times, but she has her own journey to undergo. This challenge and that of Allyson's parents is wonderful to experience. Allyson grows subtely right before our eyes.
One of the 'squee' worthy aspects of this novel are the delicious portrayals of Paris, London, Amsterdam...and other wonderful European destinations. This novel is simply a jewel amongst other novels within the travelogue sub-genre. My gosh! There are so many passages I wanted to underline and paste in my journal. I'm sure there will be many European adventures planned because of this novel. My own revisit included. How awesome would it be to take out a map, close your eyes, and travel wherever your index finger lands? If you love Paris (and European Culture), and every romanticized bit of it, then you will love this novel.
I loved that even as Just One Day is a love story, it is also a love story with ones own self. As Allyson journeys to find who she believes is her true love, she makes discoveries about herself that cause her become courageous, and step out of the shadows of her family and best friend. Even with the ominous feeling of heartbreak, this novel has an overwhelming sense of triumph, and showcases our ability to overcome and grow past things that could have stopped us short of achievement.
Bare in Mind: Just One Day contains profanity, and medium grade sexual content.
Just One Day was a second amazing start to the year, and I will be queued and ready for the release of Just One Year later this year.

I give Just One Day by Gayle Forman 5 out of 5 cups of strong expresso in a small Parisian Cafe...with one Macaron!