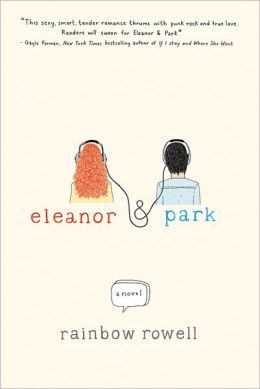 "Eleanor & Park reminded me not just what it's like to be young and in love with a girl, but also what it's like to be young and in love with a book."—John Green, The New York Times Book Review
Bono met his wife in high school, Park says. So did Jerry Lee Lewis, Eleanor answers. I'm not kidding, he says. You should be, she says, we're 16. What about Romeo and Juliet? Shallow, confused, then dead. I love you, Park says. Wherefore art thou, Eleanor answers. I'm not kidding, he says. You should be. Set over the course of one school year in 1986, this is the story of two star-crossed misfits—smart enough to know that first love almost never lasts, but brave and desperate enough to try. When Eleanor meets Park, you'll remember your own first love—and just how hard it pulled you under.
-Amazon
Eleanor & Park
is a quirky, bittersweet story of young love, angst, and super cool mixtape collections. It definitely put me in mind of some of the most classic coming of age stories in the 80s...Anything with Molly Ringwald. Although I was a baby in 1986, reading E+P has made me nostalgic for this beautifully raw era, jam packed with sounds and fierce fashion choices. An era where you actually had to work to get to know a person, as opposed to our instantly gratified generation (
You still have to work, but, who remembers having to drag a phone full of cords into a room for privacy, or having to stop because someone else needs it?...Showing my age!
)
Rainbow Rowell (killer name, btw) has masterfully executed true to life, sometimes overly dramatic, pleasantly mortifying awkward sides to high school. Park is a guy drenched in music and comics, who rides the fence when it comes to popularity. Eleanor is the girl that we have all met, or know of, whom cannot be defined, or easily understood. They both meet each other with equal parts suspicion as intrigue, and I loved this aspect of the novel. It is not a 'love at first sight', unrealistically emotive story. To experience Eleanor and Park is to experience the most beautiful form of awkwardness that I have experienced in a while. They're love grows in layers, and unconventionally, through mixtapes and the pages of comics during the ride to school.
I also loved how E+P challenge each others ideals/beliefs in this novel. Throughout the novel, Park is mystified in his love/need for Eleanor, but is also struck dumb by Eleanor's presence. There are moments where his inner monologue seem to challenge his kindness toward her. Eleanor's life brings a heavier tone to this novel. Through Park, she glimspes a life with his family, that seems unbelieveable at first, but becomes a point of healing for her. By the end of the novel...well, your heart might explode.
Bare In Mind: This novel contains profanity, and some violence.
Eleanor & Park is full of the beauty of young love, all the while maintaining that grit and attitude of the 80s. Rainbow Rowell is an incredibly thoughtful writer, who encapsulates first love in an almost mythic way, making it golden. It also shows the magic of discovering that perfect song which says everything you've ever wanted to say to someone else. E+P will, most certainly, cause you to relive your own awkwardly awesome moments. I can see this novel holding the same following as the many nerdfighters who hold John Green's novels dear to their hearts.

I give Eleanor & Park by Rainbow Rowell 4 out of 5 cups of Irish Breakfast.