Jane Eyre, the story of a young girl and her passage into adulthood, was an immediate commercial success at the time of its original publication in 1847. Its representation of the underside of domestic life and the hypocrisy behind religious enthusiasm drew both praise and bitter criticism, while Charlotte Brontë's striking expose of poor living conditions for children in charity schools as well as her poignant portrayal of the limitations faced by women who worked as governesses sparked great controversy and social debate. Jane Eyre, Brontë's best-known novel, remains an extraordinary coming-of-age narrative, and one of the great classics of literature.
-Amazon
Jane Eyre
is one of those novels that I admit I've run away from, screaming in the other direction. That's the trouble with novels school systems force on you in high school...you kind of never want to see them again. Earlier this year, I watched a wonderful review of it by
The Readables
, and the next week, found myself in Posman Books purchasing a copy. I humbly amend my earlier misplaced disdain of it.
Jane Eyre
has become one of my favorite novels of all time.
I'm not sure what I expected upon reading Charlotte Bronte's exquisite novel, but what I received was a heroine extremely a head of her time. I've even started to think that a lot of our female heroines aspire to be Jane when they grow up. Jane is bold, opinionated, and refuses to allow her seeming ominous circumstances to bear down on her spirit. This novel is fiercely inspirational, in that respect, as Jane refuses to be forced into the box that many around her seek to imprison her with. What I also really enjoyed about the novel is that, although there are loads of gothic references, and ties to the spirit world, the novel did not seem overly sensational. It felt more like Bronte depicting life as it was, rather than deliberately contriving a story with ghosts hidden in dark corners and voices in the night.
When Jane meets Rochester, I think I finally understand why he's one of the most famous heroes in English Literature. He is full of sardonic wit, that really comes to life when matched with Jane's spirit. He caused me to love Jane all the more because even as she acknowledges that she is intrigued by Rochester's conversation, she maintains a level head in lieu of the many secrets that haunt him in Thornfield Hall. Rochester is extremely cocky, and at times a bit irritating in his assumption that he knows all there is of the world...yet even with all of this I felt drawn to him, his backstory, and his transformation as the novel draws to a close.
Charlotte Bronte is such an excellent writer. Unfortunately, there are many classic novels that, though I respect them, I cannot get through for the dense writing and slow moving plot. Yet from the first page, Bronte thrilled me with her beautiful writing, as well as her ability to build a wonderful plot. I'll admit that there are moments, between the middle and end, that felt a bit slow. Nevertheless, it definitely surprised me!

I give Jane Eyre by Charlotte Bronte 4 and a half out of 5 cups of Earl Grey by a luminous fire.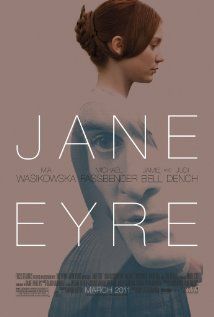 Following in The Readables footsteps, I've also decided to do a brief review on the 2011 adaptation of Jane Eyre. I've observed that fans hail the 2006 BBC adaptation as the one to beat. Unfortunately, I have yet to see that one, so until I do, this one remains my favorite of those I have seen. I can almost see the balking through the screen. Although it's the one I love most of those I have seen, it is a film with hits and misses. Of the hits, I adored the settings, especially that of Thornfield Hall, beautiful costumes, amazing cinematography, as well as the score. They each held a poetic quality that will keep me watching over and over again. I also adored the chemistry between Mia Wasikowska and Michael Fassbender. It's electric, and definitely rules that whole middle section of the film. Micheal Fassbender is the Rochester to beat all Rochesters. Just saying.
Of the misses: It's incredibly hard to condense a 600+ page novel into a two hour film, it's just not possible. I've never been one of those readers that watch an adaptation and agonize over how much they changed from the book, it's a useless argument. However, in this film there were moments that seemed a bit rushed. Especially the ending, which I feel they owe us 20 minutes more, at least. When it comes to Mia's portrayal of Jane, I think she did a fine job, but as many have pointed out in their reviews, I thought that she portrayed Jane as a bit more frail than I imagined her in the novel.

I give this film 3 out of 5 cups of Earl Grey.
P.S.: If you have yet to check out
The Readables
on YouTube, please run over now! She is one of my top ten book vloggers!