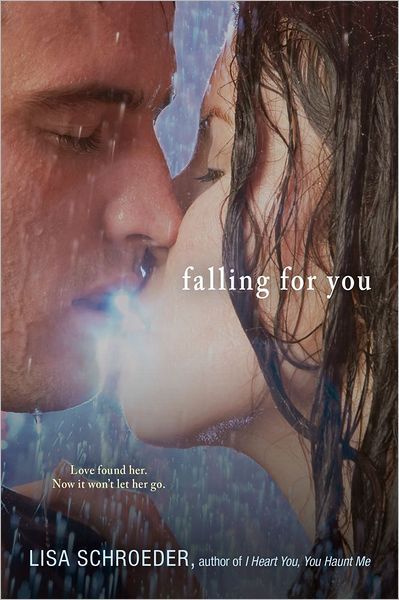 Affection turns to obsession—and love means both devastation and redemption—in this gripping novel from the author of I Heart You, You Haunt Me. Rae's always dreamed of dating a guy like Nathan. He's nothing like her abusive stepfather—in other words, he's sweet. But the closer they get, the more Nathan wants of her time, of her love, of her…and the less she wants to give. As Rae's affection for Nathan turns to fear, she leans on her friend Leo for support. With Leo, she feels lighter, happier. And possessive Nathan becomes jealous. He's not about to let her go. And with danger following her every move, Rae must fight for the life and love she deserves if she's going to survive.
-Amazon
When I discovered that Lisa Schroeder would release her latest novel in prose, I was delighted to experience a new side of her work.
Falling For You
was a wonderful start to the New Year, especially since my local Barnes & Noble thought it fitting to release it a few days before it's release date!
Falling For You is the story of, Rae, a young woman who longs so much to live the life of an ordinary teenager, but is stuck in an often neglectful, and at times, abusive household. All Rae wants us to know what it is to be wanted...to be loved. Along her journey, she meets Nathan, who could be the guy of her dreams, or yet another set of steel bars of which she cannot escape.
This story is an incredibly moving story of what it means to break free. Rae's journey is, at times, a heartbreaking one, but I loved that she does not embody a victim. She has insecurities, doubts, and issues as anyone in her position would, but she never comes across as someone to pity. This inner strength that Rae cannot see in herself made me wish that I could jump into the pages of this novel and help her. Lisa Schroeder brings us a story written in prosaic style, but I also loved that her poetic streak is not left behind. Rae uses poetry to express all of her dire experiences. This aspect of the novel seems to lighten up the heavy subject matter in a way that's inspiring.
Schroeder's portrayal of Nathan is spot on! From his opening scenes I found him creepy...a brilliant example of the kinds of guys all women should stay away from. But what I most admired most about Schroeder's novel is that she views this from all angles. Abusers are not cast in a completely ominous light. She made me wonder what experiences caused them to become an abuser, and understand that as much as they can be disliked for what they do, they are in need of as much help as those they abuse.
Cue the curtains and welcome the beautiful, Leo, to the stage! Leo is a bright light in Rae's, dark world. There is not a single of Schroeder's hero's that are not the very definition of a dream guy. Imperfect little Hersey Kisses of awesomeness. He's quirky, hilarious, and artistic. But more importantly, he see's Rae, and wants more than anything to support her. To brighten her day in such tender ways.
Lisa Schroeder's supporting characters bring a lot of depth to the plot as well. I enjoyed 'meeting' all of Rae's friends, coworkers, and those she meets along the way. It's simply beautiful that even as Rae has a lot on her plate, her sights turn to others...how she can brighten someone else's day.
Falling For You by Lisa Schroeder does not shy away from the harsh reality of abuse. There were scenes that took my breath away. But she does not tell a bleak tale. Hope laces the spine of this novel, and it will, no doubt, leave you inspired.
Bare in mind: Far From You contains profanity, violence, abuse, and disturbing scenarios.

I rate Falling For You by Lisa Schroeder 5 out of 5 cups of Irish Breakfast!