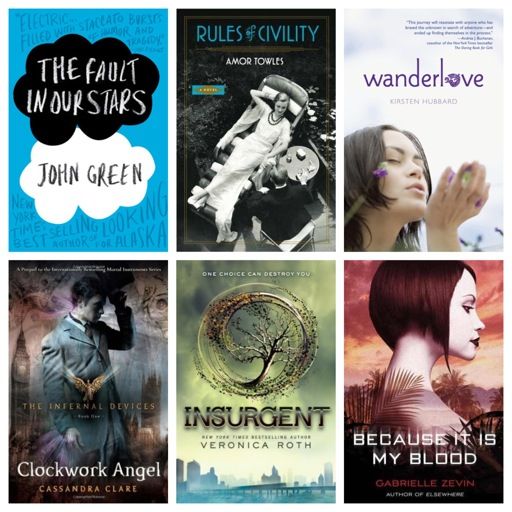 Happy New Years Eve, guys! I know that you're all probably off readying yourself for a fabulous New Years shindig, so of course I've come to liven up your merriment with my Top Books of Twenty Twelve list.
The Fault In Our Stars
by John Green: I'm sure I'm just one of more than a million other lists with this masterpiece taking the top slot. I've been meaning to re-read this all year, but perhaps I'll make it a yearly thing. There are only a few novels that have truly touched me, and this novel takes it, along with the next novel, which I'll get to in a moment. It is quite simply, one of the best YA novels I've ever read, and my first introduction to John Green.
Rules of Civility
by Amor Towles: This novel was such a surprise. It's not a novel that I would normally go for whilst perusing shelves in the book shop, but my friends raved over it. I'm so happy that I took their recommendations to heart. I loved the tone of it, its era, and the things it taught me about life.
Wanderlove
by Kirsten Hubbard: I adored this novel because by the end of it, I wanted to travel to the very ends of the earth, meeting beautiful people, and destroying self imposed boxes that may have kept me away from living.
The Infernal Devices Series
by Cassandra Clare: For a while, I felt as if I were the only blogger on the planet who had not jumped into both of Cassandra Clare's awesome series'. I thought about which one I wanted to read first, and I'm so happy I chose The Infernal Devices. It's everything that everyone says it is, and has two beautiful shadowhunters to choose from!
Insurgent
by Veronica Roth: I loved Insurgent so much more than
Divergent,
for some reason. It showed me that this series truly is something to be reckoned with. It's tense, serious, insightful, and romantic...placing it on the list of the best dystopian YA novels out there.
The Birthright Series
by Gabrielle Zevin: This was another surprise, as when I started it, I knew it would either be a hit or miss. I still can't classify it, aside from the list of genius awesomeness!
What were your top novels of 2012?
P.S.: There's a Novel Days revamp coming...perhaps with a giveaway (wink, wink). Stay tuned, and I hope you have the most marvelous of New Years!