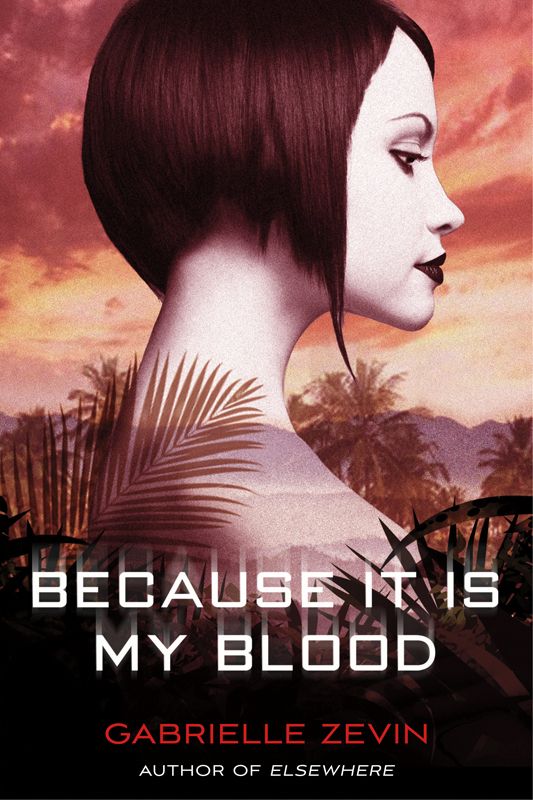 Since her release from Liberty Children's Facility, Anya Balanchine is determined to follow the straight and narrow. Unfortunately, her criminal record is making it hard for her to do that. No high school wants her with a gun possession charge on her rap sheet. Plus, all the people in her life have moved on: Natty has skipped two grades at Holy Trinity, Scarlet and Gable seem closer than ever, and even Win is in a new relationship.But when old friends return demanding that certain debts be paid, Anya is thrown right back into the criminal world that she had been determined to escape. It's a journey that will take her across the ocean and straight into the heart of the birthplace of chocolate where her resolve--and her heart--will be tested as never before. -Amazon
I'm just going to jump right to the chase with this one.
Because It Is My Blood
ranks in my top ten best reads of 2012. As I may have expressed in my review of the first novel in the Birthright series,
All These Things I've Done
, this series seems to be one of the most slept on series'. I'm always so surprised that I don't hear more about this series on the blogosphere.
Because It Is My Blood starts right where ATTID left off. Anya's doing her best to protect her family, and stay out of trouble, but, as usual, it's not long before her familial ties to contraband chocolate come back to set her world on fire. Zevin definitely raises the stakes with this one. There's more action, more suspense, and an overwhelming certainty that Anya cannot trust anyone. Throughout the entire book, there were moments where I wanted the throw the book into the street, for all of twists, turns, and betrayals. I'm talking 'mouth-wide-open', brow crunching shock.
I loved everything about this novel. I especially loved the entire section dedicated to chronicling her moments in Mexico, and the new friends she meets. Zevin has a talent for creating intriguing characters with subtle details that I wanted to dig deeper and deeper into. Anya's voice is a wonderful portrayal of what it is to have experienced the horrors of the mafia, and yet also maintain traces of vulnerability that surface all the more in this novel. Natty and Leo carry the same adorableness that they did in the first novel. Scarlet is forced to grow in this novel, but maintains her playful spirit. Yuji...hmm. That man becomes an even more indecipherable enigma than the last novel. I suspect we have not seen the last of this one. Oh the questions I have.
One of my favorite parts of the novel is its emphasis on the beauty of chocolate, or that of its natural form, cacao. In the middle of this action/mystery/mafia saga, it's a welcome break to sit and learn of the importance of chocolate. I also loved Zevin's superb revisioning of New York City, where The Metropolitan Museum of Art is now a nightclub, the former New York Public Library is a club that has been closed down, but Union Square seems comfortingly familiar.

My only pet peeve lies in the reviews on the back flap of the book jacket (this has nothing to do with the novel). It irks that this novel is continuously placed in the box of a futuristic Romeo and Juliet. Yes, there's love, because without which there would be no reason to read this, or any novel for that matter. Yes, there is some romance, and a relationship that is challenged by Anya's familial ties. But the overall story seems to take precedence over Anya and Win's relationship, and I quite like that. Though it is a big part, it is not the whole. Anya stands more to lose than her boyfriend. I love that Anya is a strong protagonist who can be in love, and yet not allow her relationship to become her entire reason for existing.


Bare in Mind: Because It Is My Blood contains violence, and disturbing scenarios.
The Birthright Series is easily the most peculiarly inviting series in Young Adult fiction. It is a fresh concept pairing chocolate with and old fashioned mob story that is believable and unpredictable. Zevin manages to make chocolate seem this enticing illegal thing that whilst reading you must get your hands on.
I Give Because It Is My Blood by Gabrielle Zevin 5 out of 5 cups of Abuela's Bitter Hot Chocolate (a recipe for which Gabrielle includes in the novel!)