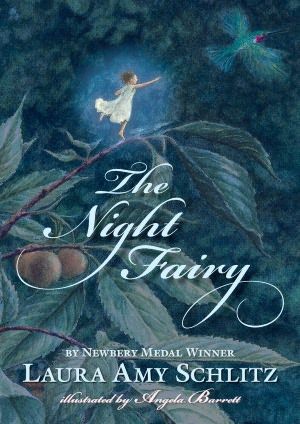 What would happen to a fairy if she lost her wings and could no longer fly? Flory, a young night fairy no taller than an acorn and still becoming accustomed to her wings — wings as beautiful as those of a luna moth — is about to find out. What she discovers is that the world is very big and very dangerous. But Flory is fierce and willing to do whatever it takes to survive. If that means telling others what to do — like Skuggle, a squirrel ruled by his stomach — so be it. Not every creature, however, is as willing to bend to Flory's demands. Newbery Medal winner Laura Amy Schlitz and world-renowned illustrator and miniaturist Angela Barrett venture into the realm of the illustrated classic — a classic entirely and exquisitely of their making, and a magnificent adventure.
-Amazon
This will be a short and sweet book review for a lovely tale about a little fairy learning to fly again. I decided to take a break from angst filled teen lit, to indulge in some hardcore whimsy, and more attitude than I expected from a little fairy. In
The Night Fairy
by Laura Amy Schlitz, adorable Flory has experienced grave trauma one night, and has as a result, lost her wings. Afterwards, she becomes paralyzed with fear, and tries to change everything about herself so that she will not have to face frightful creatures of the night.
What else can I say other than that Flory is such a 'boss' fairy. She faces her fears, sometimes head on, sometimes not, but she has loads of heart that I think will melt yours. The friends she makes in this adventure are also wonderful, hilarious, and well portrayed. Skuggle the lovably hungry squirrel who becomes a good friend, and banter bud is quite fun.
Laura Amy Schlitz is a beautiful writer, and Angela Barrett's illustrations are enchanting.
The Night Fairy is just the break I needed for that dose of childlike wonder and enchantment.
I rate The Night Fairy by Laura Amy Schlitz 5 out of 5 cups of Earl Gray.