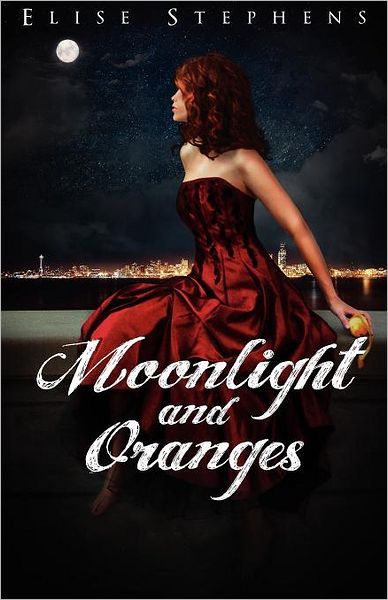 Lorona Connelly is ready for a change from her carefully planned, bookish life. When sparks fly at a costume party, she embraces a chance for romance with the handsome Kestrin Feather. However, she quickly realizes that even love and destiny may not be enough to overcome the reality of an overprotective mother-in-law and Kestrin's long, tarnished history of relationships. When Lorona's curiosity leads her to Kestrin's journal, doubt plagues them both with insecurities and threatens the relationship. Can true love overcome the odds, or was their whirlwind romance just a frivolous crush? Author Elise Stephens shares a journey of young love, fate, and wounded trust in the story of Lorona and Kestrin, a couple who must learn to overcome their fears to share a life together.
-Barnes & Noble

Sent from the Publisher


When I read the premise for Moonlight and Oranges by Elise Stephens, I was very intrigued with it. I learned that it is inspired by the Greek myth Cupid and Psyche, and that made me even more excited to dig into this enchanting story. I love modern retellings because it takes an awesome writer to keep the essence of the original, while infusing it with their own fresh take. While there were some aspects of this novel that I didn't quite connect with, as I read further, I became more and more enthralled with it.
Moonlight and Oranges tells the story of Lorona and Kestrin. Lorona, a seeming girl next door, meets playboy Kestrin at a holloween party, where Kestrin realizes that she is the woman that he dreamed would be his wife. In a whirlwind, he proposes, and for a moment they are in a chrysalis of their own making, but soon reality, and the actions of Kestrin's conniving mother threaten to tear them apart.
I'll admit that in the first few chapters, as much as I tried to jump in and feel excitement at the thought of Kestrin asking Lorona to marry him, I found it was a bit hard to connect with. Perhaps it's because it felt a little contrived, but what I began to love about this story is that these suspicions are answered. Stephens is not afraid to throw her characters into a starcrossed dream, and then shake them out of their own preconceived notions, as well as the opinions of other characters that try to turn Kestrin and Lorona against. It was right when the 'scent of deception' rises midway in the novel that I became enamored with the story line. Stephen's has a talent for suspense and conceiving a plot that pulses with energy, humor, and drama.
Lorona and Kestrin's characters were interesting, and I wanted to know more about their upbringings, and beliefs. I had hoped that they would be a bit more fleshed out. Kestrin's mother, Amanda, is a wonderfully painted villain. The low that she stoups just to keep Kestrin and Lorona apart was ridiculous at times. She is the portrait of a woman you would never want to meet. I also loved Yuki and Kahlil. They were awesome best friends, and counsel for Lorona and Kestrin. I loved their interactions with each other.
Elise Stephens has a great imagination that I felt rising from this novel. I could feel her love for the story especially as it progressed, as well as her love for the surreal. I loved that she based Lorona's name from a Mexican legend called La Llorona, because it further enhances the magical feel of this story. There are places in the novel where descriptions of setting are so beautiful, especially those beneath the moonlight.
Moonlight and Oranges by Elise Stephens is an interesting story with loads of page turning moments to suck you in. Although there were moments that I didn't quite connect with, I feel it is a good story, and would love to read more of her work.
I give Moonlight and Oranges by Elise Stephens 4 out of 5 cups of mandarin orange juice under a frosty moonlit night.