Sartorial Lit is a feature at Novel Days that combines fashion with fiction.
One of the most striking aspects of The Hunger Games film is it's attention to fashion. Most are in awe of the bizarre garments donned by the citizens of The Capitol, or custom costumes conceived by Cinna. But I was most drawn to the simplistic nature of those warn by the citizens of District 12. Even as District 12 is a stark portrayal of hardship, it carried for me a nostalgic beauty that shined through the bleakness. For this Sartorial Lit post, I've drawn inspiration from Katniss and Primrose Everdeen's reaping dresses, hand me downs inspired by styles from the Depression Era.
It would seem that a young woman of District 12 wouldn't have very many opportunities to dress up, but on a foreign occasion, hopefully happier than the Reaping, the fashion would be natural, classic, and nostalgic. Katniss's dress is a simple one that shows off her natural beauty. Primrose's outfit is similarly simple and clean, revealing an effortless modest beauty. Given the harsh circumstances that would have flooded the days of a young woman from District 12, there would be no room for excess. A woman from District 12 would do what she could with what she had, no more, no less. Clean, soft skin; tousled hair perhaps braided or in a messy bun; clothes often handed down from many woman in her family or sewn; heirloom jewelry of the simplest nature (e.g. pearls (wink wink), lockets, timepieces, etc). Her clothing would not only highlight her natural beauty, but also her strength in a rustic terrain.
The color scheme seemed to fit that of soft and faded shades: cremes, beiges, soft florals, deep blues or browns, etc.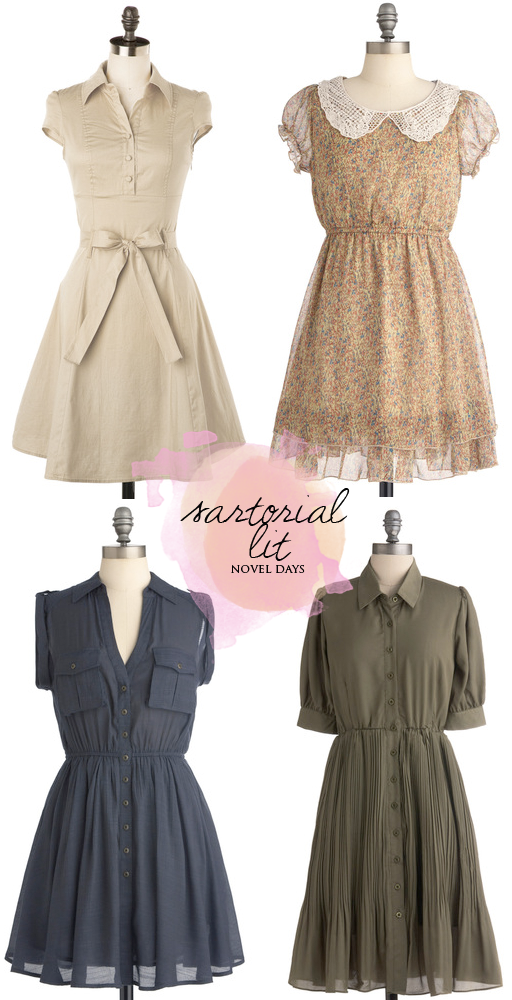 Of course, the fashions represented by the Capitol are nothing short of magnificent, but the natural, classic beauty of District 12 is also not to be missed.
What did you think of the film's attention to fashion detail?
P.S.S: I leave you with the music video for Safe and Sound by Taylor Swift feat. The Civil Wars. Such a beautiful video, and Taylor's dress is simply gorgeous!
Source:
1-2