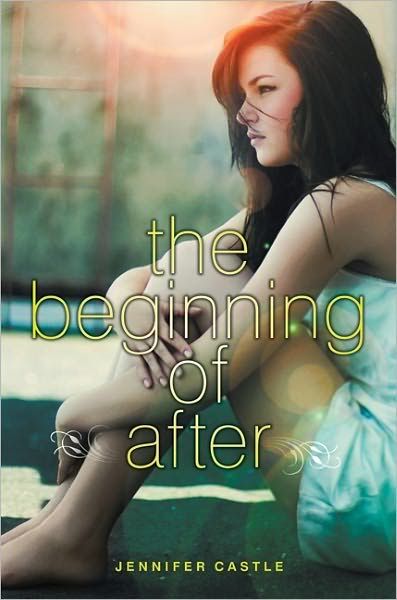 Anyone who's had something truly crappy happen to them will tell you: It's all about Before and After. What I'm talking about here is the
ka-pow
, shake-you-to-your-core-and-turn-your-bones-to-plastic kind of crappy.
Sixteen-year-old Laurel's world changes instantly when her parents and brother are killed in a terrible car accident. Behind the wheel is the father of her bad-boy neighbor, David Kaufman, whose mother is also killed. In the aftermath of the tragedy, Laurel navigates a new reality in which she and her best friend grow apart, boys may or may not be approaching her out of pity, overpowering memories lurk everywhere, and Mr. Kaufman is comatose but still very much alive. Through it all there is David, who swoops in and out of Laurel's life and to whom she finds herself attracted against her better judgment. She will forever be connected to him by their mutual loss—a connection that will change them both in unexpected ways.
Jennifer Castle's debut novel is a heart-wrenching, surprisingly witty testament to how drastically life can change in the span of a single moment.
The Beginning of After could easily become a young adult classic on the subject of dealing with, and overcoming grief. Laurel's character is very relatable, as an ambitious young woman with an open heart who experiences the trauma of losing her mother, father, and younger brother in a car accident. Castle successfully executes the feeling of grief, or perhaps, the numbness that grief tends to push a person towards. The challenge for Laurel becomes dealing with her feelings for David, her rebellious next door neighbor, who's father was behind the wheel of the car that caused the accident. David deals with his own trauma as his own mother passed, and his father is in a coma. Out of all of Castle's cast of characters, David is unpredictable in his actions, yet they read true as a person dealing with his problems via escape. While reading, there were times that I felt for him, and then other times where I just wanted him to open up more. Nevertheless, David is a very authentically depicted character. His dualities of cocky vulnerability work well, and in turn, make the reader intrigued by him. Supporting characters such as Meg, Joe, and other's from school were great additions.
The novel had a very raw quality that made it believable. Of course, its not so raw that it will shock the reader, but it's stripped free of the warm and fuzzy feelings it could've contained, especially with the romance between Laurel and David. It was very natural, and well paced. It was, at times, heartbreaking to read of this girl who had everything going for her, have to try and pick up the pieces without having the foundation of her family. However, it was all the more awesome to see her travail through with the help of her grandmother, friend Meg, and awkward start-stops with David. I loved how they became allies to each other in a manner that didn't feel forced.
I will say, though, that the novel seemed a bit muted to me. Perhaps, this was because it was in Laurel's point of view, but I wasn't struck by scenes where I felt I should've been. There were scenes that were particularly emotional, and such scenes were well done. But I still hoped that I would've come away from this novel feeling an emotional punch, and I'm not sure I have that feeling. It was a good read, but I did hope for more.
I give The Beginning of After by Jennifer Castle four out of five cups of Earl Grey.