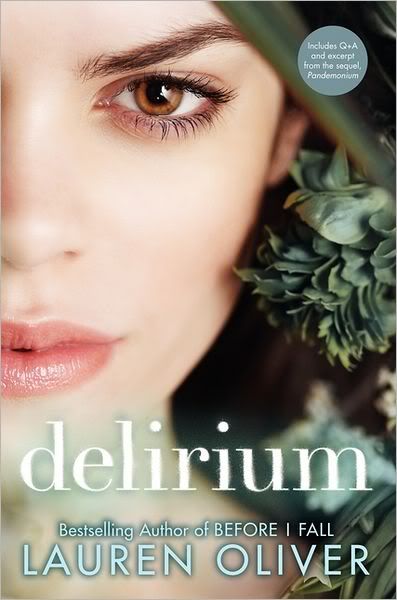 Ninety-five days, and then I'll be safe.
I wonder whether the procedure will hurt.
I want to get it over with.
It's hard to be patient.
It's hard not to be afraid while I'm still uncured, though so far the deliria hasn't touched me yet.
Still, I worry.
They say that in the old days, love drove people to madness.
The deadliest of all deadly things: It kills you both when you have it and when you don't.
Lauren Oliver astonished readers with her stunning debut,
Before I Fall
. In a starred review,
Publishers Weekly
called it "raw, emotional, and, at times, beautiful. An end as brave as it is heartbreaking." Her much-awaited second novel fulfills her promise as an exceptionally talented and versatile writer. -Barnes and Noble
I've recently started on what I believe will be one of the most beautiful new series' of 2011. Delirium starts off with five cups of Earl Grey simply because it incorporates love and dystopian literature. Is not, "It has been sixty-four years since the president and the Consortium identified love as a disease, and forty-three since the scientists perfected a cure," one of the greatest opening lines? Lauren Oliver is such a lovely writer, I adore the writing style! I can't wait to see how it unfolds, and I'm even more delighted to know that it's the first of a series. Also, this is my first hardcover since purchasing my Kippa, and it is STUNNING. Seriously, I spent and entire week just staring at it on my glass table! It's one of those books to save and show off in your bookcase. So far, Lauren Oliver is a genius in my book!
Jazz . . . Booze . . . Boys . . . It's a dangerous combination.
Every girl wants what she can't have. Seventeen-year-old Gloria Carmody wants the flapper lifestyle—and the bobbed hair, cigarettes, and music-filled nights that go with it. Now that she's engaged to Sebastian Grey, scion of one of Chicago's most powerful families, Gloria's party days are over before they've even begun . . . or are they?
Clara Knowles, Gloria's goody-two-shoes cousin, has arrived to make sure the high-society wedding comes off without a hitch—but Clara isn't as lily-white as she appears. Seems she has some dirty little secrets of her own that she'll do anything to keep hidden. . . .
Lorraine Dyer, Gloria's social-climbing best friend, is tired of living in Gloria's shadow. When Lorraine's envy spills over into desperate spite, no one is safe. And someone's going to be very sorry. . . .
From debut author Jillian Larkin, VIXEN is the first novel in the sexy, dangerous, and ridiculously romantic new series set in the Roaring Twenties . . . when anything goes. - Barnes and Noble
I discovered The Flappers Series a few weeks ago, and I'm excited to start on this. I find the Roaring 20's to be such an intriguing era, yet it also seems to be one of the more overlooked era's in terms of YA Fiction. High society, Short bobs and finger waves, silent films, cupids bow lips, parties in vintage Chicago and Jazz...sounds good to me! It will be my first time reading a novel involving loads of Gossip Girl-esque drama (and normally, I run away from such books), but Jillian Larkin seems to have captured something special. I hope to have an awesome review up for this series very soon!
What books are you looking forward to reading (new or old)?