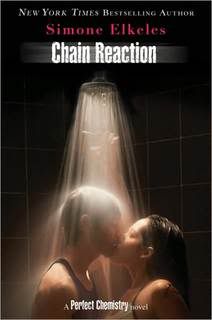 Luis Fuentes is a good boy who doesn't live with the angst that his big brothers, Alex and Carlos, have always lived with. Luis is smart, funny, and has big dreams of becoming an astronaut. But when he falls for the wrong girl, Luis enters a dark world he's never known, and just when he thinks he's got life all figured out, learns some disturbing news about his family that destroys his positive outlook on life. Will that Fuentes bad boy streak come out with a vengeance and lure Luis to live on the edge like his new girlfriend and his own father?
Continuing all the steamy romance of the first two books, New York Times and USA Today bestselling author Simone Elkeles gives fans one more satisfying taste of the irresistible Fuentes boys. -Amazon
I've just finished reading Chain Reaction, the last novel in the Perfect Chemistry series by Simone Elkeles, and I am so chuffed! This novel was the sugary icing atop the buttery cupcake. There really isn't an aspect of this novel that I didn't like.
Elkeles uses this third and final novel to shine the spotlight on Luis, the youngest Fuentes brother. He's, seemingly, the antithesis of Alex and Carlos: ambitious, a high achiever, and trying as hard as he can to stay out of trouble. But of course, he's a Fuentes, and that means that there's only a matter of time before trouble curls its finger come hither in his direction. I adored him. He's fresh, fearless, and willing to show his vulnerable sides if it means he'll capture the attention of Nikki Cruz. Luis undergoes a full-circled, metamorphosis in this novel: from wide-eyed thrill seeking kid, to this dangerous man capable of moving to the darkside. However, in the midst of this you can see through to his heart, and realize his confusion as he fights within himself not to succumb to the person that the Latino Bloods want him to be.
Nikki Cruz is one of those characters that I think anyone who's experienced heartbreak can relate to. There's a method to her embittered madness and I sympathized. Experiencing the trauma that she undergoes at 15 is enough to understand why she's so callous to Luis at times. However, there were moments when I wanted to slap her and scream: "CAN'T YOU SEE HE LOVES YOU!" Nevertheless, I felt this characterization worked very well in the novel!
Chain Reaction is chock full of wonderfully adorable moments, from Luis and Nikki's first meeting, to Nikki's first moments with the Fuentes family. I love that in each novel, Elkeles makes sure we get our fill of each brother, watching how they all grow in each individual relationship. Carlos is still spastically hilarious, and Alex is still fun-loving, but on top of his responsibilities!
One of Elkeles' strengths are action scenes. She can weave a love scene with passion, and she can compose a gunfight that will make you gasp and glue your eyes to the page. Full on entertainment! I felt the threat that Latino Blood King, Chuy, posed to the Fuentes Family, and a driving need to see him taken down! Her prose flows, and she uses the mixture of Spanish and English very well in both dialogue and narration. She believably gets into the minds of Luis and Nikki without any blending of the two, and this I can appreciate as I, myself, struggle with this in my own novel!
Chain Reaction was a wonderful read, and I find I'm saddened by the fact that this is the last time I'll experience the Fuentes family...unless Elkeles has a few secrets waiting to unfold!
I give Chain Reaction 5 out of 5 cups of Earl Grey, plus a tray of cucumber sandwiches, and scones with sweet cream and jam.


Let us have a moment of silence for these utterly adorable, knee weakening Fuentes men. And hope that somehow there will be a film, and that these actors will be the signed on!