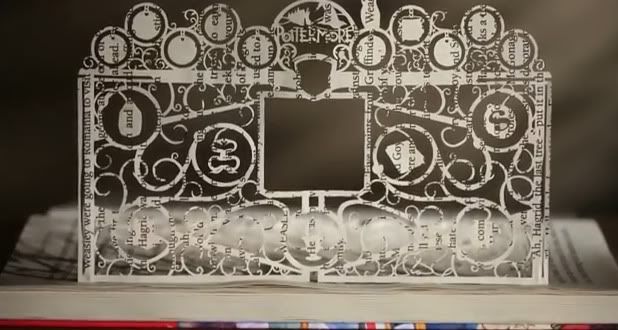 I'm excited to have had the opportunity to be one of the lucky few who gained access to J.K. Rowling's highly anticipated project, Pottermore. I must admit that I'm pretty late to the fandom. I've always been a huge fan of the films, but by the Order of the Phoenix, I thought it might be better to wait to start on the novels until the last film premiered. I've recently started on the Sorcerers Stone, and I'm delighted with Rowling's astounding world. It is, without a doubt, the most imaginative world in literary history!
That being said, Pottermore is a dream space for Potter fans to explore all of the many world's they've read and imagined for so long! Rowling has given us all the opportunity to receive a Hogwarts acceptance letter from Dumbledore, himself. I have a great deal more exploring to do of Pottermore, but so far it's been pretty cool. Within my first day, I've shadowed Harry's steps through the Sorcerers Stone novel, purchased my school supplies, had my wand choose me, and discovered that although I've linked with the Hufflepuff house for so long, the Sorting Hat placed me in Ravenclaw. I was a bit disdained at first, but then I couldn't help but love being dubbed an eccentric genius. I observed the great lengths taken by its' creators to bring the world to life. The world is artful and very detailed, from the owls/cats, to the train carriages. The only criticism I would have about this is that they have not enhanced the experience with music yet. I'm sure that by October, everything will be fresh and ready to go!
Pottermore is definitely the site to look forward to with expectancy! I cannot wait to see you all there, sorted into your respective houses! My name is MoonGold31, please feel free to friend me!
Did you gain access? What do you like (or not) like about Pottermore?