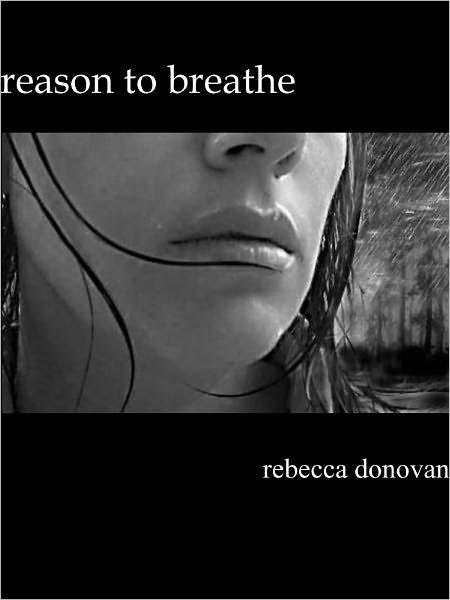 I'm very excited to present Novel Days' first feature author Q&A! After finishing, Reason to Breathe, I couldn't help but wonder about the mind behind such a wonderful story. Rebecca Donovan has offered me the awesome privilege of digging deep into her mind to learn about the writing process behind Reason to Breathe...
The Process
ND: What inspired Reason to Breathe? What inspired a novel on child abuse?
RD: When I decided to write this novel, I wanted it to be unlike any other. I wanted the story to feel possible. Abuse of any kind, whether it is physical, emotional or psychological can destroy a person, or alter who they could potentially become. It can also happen in any neighborhood to any person - and that was important for me to relay.
ND: What was the process of developing the characters Emma and Carol? Or getting into the mindset of the abuser and the abused?
RD: I allowed Emma's voice to be pretty close to my own. I would consider how I would react or feel in a certain situation. I am very different from Emma in many ways, we are certainly not the same person, but I could feel her pain and connect with her awkwardness. It made her creation a very emotional one.
I've been asked what made Carol the way she is, and I have to admit that I've left that answer open ended - taking her for who she is without excuses as I created her. In truth, I did not want to venture too far inside Carol's mind. I didn't want to give her a reason for being who she is because in all honesty there isn't one "to explain away" the cruelty. Regardless of a person's upbringing, or emotional or psychological trauma, there isn't a viable excuse to torture another human being.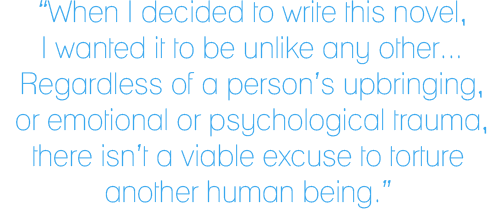 ND: Evan was an absolute dream to read. Who was your favorite character to develop? Which character surprised you the most?
RD: Hmm... I guess I would pick Sara as my favorite to develop. She could have so easily been a cliché, but she became the friend we all need in our lives - the one who will always be there when we fall on our face, perhaps laugh at our clumsiness, and then tell us exactly what we need to know even if we don't want to hear it. I truly enjoyed her development and laughed alongside her many times along the journey.
Emma is the character who definitely surprised me the most. She is quite a complex character, and not the typical abuse victim. Although she's coated with self doubt and insecurities, she is compelled to succeed - almost obsessed with it. She possesses a fire deep down that she is fearful to acknowledge, and a compulsion that could get her into even more trouble if she's not careful. I became fascinated by her many layers and allowing a little more of her to be exposed with each chapter. She's not easy to get to know...
ND: While reading some of the more romantic scenes, the song "Can't Take My Eyes Off of You" by Lifehouse popped onto my iPod and became my soundtrack for Emma and Evan. Did music play a part in creating the story?
RD: Great song choice! I've heard it before, but not when thinking about the story - nicely done! Music plays a huge role in my life. I think everyone needs a theme song! I daydream, (or perhaps I should say "conceptualize" to sound more professional - ha!), about a scene before I start writing. Although I cannot listen to music while I write, I do listen to it just about every other second of the day - so when I'm thinking about a certain moment I'm about to create and the perfect song comes on to capture the mood, it makes everything connect perfectly!
ND: The ending of the novel is hauntingly profound. I still can't stop thinking about it. What inspired you to end it this way, and what do you hope your readers will take away from it?
RD: HOPE is exactly what I wanted the readers to walk away with. No matter how bad things look, never stop fighting for what's most important. Emma did not make the best choices throughout the story - silence is not the answer. Unfortunately it took until this horrific moment for her to realize that she was worthy of being loved.
ND: The ending also seems to foreshadow a possible sequel. Any sequels in the works?
RD: There is a sequel in the works! I initially wrote it right after completing REASON TO BREATHE however it didn't come out quite right, so I'm writing it again. I love how it's developing and can't wait to share it with everyone. It's a completely different story, but is written in the same realistic style as the first. I want readers to connect with the characters and be pulled right into the moment with them as if they're living it too. I am planning for the sequel to be available this fall, 2011.

On Writing and Publishing:
ND: Being a writer myself, I have such respect for your drive and commitment to publish your work and create an open door for it. What are your thoughts on self publishing and its seeming stigma in the publishing industry?
RD: I wanted more than anything to have an agent and publishing house pick me up so I could write for a living and not have to worry about anything else... then I woke up. The e-Market allows writers to be read without the stack of rejection letters. I don't discount traditional publishing - I have great respect for it and wouldn't turn my back if approached. But I felt empowered opening my own doors and being in control of all aspects of publishing and marketing. In truth, when I scan through the books available for eReaders, it's not obvious which are self-published and which are represented by a publishing house. I am often surprised when I dig a little deeper to discover which are which.
ND: Finishing a novel can be daunting, what with critics, publishing politics, and a writer's own doubts. How did you find the drive to continue in spite of challenges?
RD:

I
t's certainly not easy, and I wasn't quite prepared for what was going to happen next. In truth, some of the reviews - especially the anger over the controversial ending - got to me. I knew not everyone would love the book, but I wasn't prepared for some of the hostility. Overall, my readers have been so
amazing
! I receive the best emails and have been welcomed warmly by most - and it means more than I can express. A friend of mine said it best after I was distraught over a unpleasant review:
"You will not appeal to everyone, no matter what you do. Not every writer is right for every person... If you are writing to have everyone like you, you are in the wrong field and you are writing the wrong books. If you need everyone to like the books, stop writing."
I don't think I could stop writing if I wanted to, so I will enthusiastically embrace the fans and give a nod to the critics. I write because it's who I am, it's not a choice.

ND: Do you have any advice or tips for future novelists out there?
RD:
If you love to write, and this is your passion, then write! Put yourself out there; what do you have to lose? Pour all of your emotions into your work while you're writing it, but once you've shared it with the world, let the emotions go and don't allow it to get personal. Sounds impossible, I know - but try your best not to
get caught up in the reviews or the rejection letters. You cannot control whet
her someone loves or despises your work, so just let it happen.
ND: Do you have a website or blog where fans can connect with you to learn more about Reason to Breathe and other projects?
RD:
I have created a website,
rebeccadonovan
.com, that provides insight into the creation of the novel along with deleted scenes that didn't make the final publication and even a playlist that inspired many of the scenes.
I also started a blog to keep readers apprised of the progress of the sequel. I am a novice blogger, so I appreciate my fans' patience as I fumble my way through it. This may be found on
Goodreads.com
.
I am open to blog topics and questions regarding the novel. There is a link on my website to contact me. It has been a pleasure so far. I plan to continue to tap into your emotions and may even twist a few hearts along the way; but don't worry, I'll also hold your hand to get us through it!
Thank you, Rebecca Donovan, for taking the time to have a little Q&A with me for your novel Reason to Breathe! It's a Novel Day's first, and I'm proud to say that it's for a superb story that is sure to touch many a heart. The news of the sequel releasing as early as this Fall is too much to handle, I can not wait! Meanwhile if you've read the novel, show Rebecca some love by letting her know via one of her fan pages! Let's make this a big one, Ladies and Gentlemen.
Slight sidebar: If you or anyone you know has, or is dealing with abuse, do not be afraid to reach out for help, or to support those you know and love. For more information on how you or someone you know can get help please visit Child Help or call them at 1-800-4-A-Child, or for Domestic Violence visit The Hotline or call them at
1-800-799-7233.