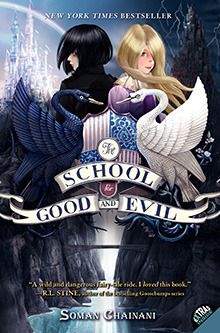 The New York Times bestselling The School for Good and Evil, the first book in the series, is an epic journey into a dazzling new world, where the only way out of a fairy tale is to live through one. This paperback edition features an Extras section, giving readers a chance to see which school they'd be in and a Q&A with the author, Soman Chainani. With her glass slippers and devotion to good deeds, Sophie knows she'll earn top marks at the School for Good and join the ranks of past students like Cinderella, Rapunzel, and Snow White. Meanwhile, Agatha, with her shapeless black frocks and wicked black cat, seems a natural fit for the villains in the School for Evil. The two girls soon find their fortunes reversed—Sophie's dumped in the School for Evil to take Uglification, Death Curses, and Henchmen Training, while Agatha finds herself in the School for Good, thrust among handsome princes and fair maidens for classes in Princess Etiquette and Animal Communication. But what if the mistake is actually the first clue to discovering who Sophie and Agatha really are?
-Amazon
After months of sinking into literary novels, I wanted a nice imaginative vacation of sorts, and stumbled into a cinematic treasure trove of princessy goodness!
The School for Good and Evil
by Soman Chainani centers around Sophie and Agatha in the town of Gavaldon, where two children are kidnapped every year and taken to the School for Good and Evil where they are swept into an epic fairytale with the enormous task of tipping the scales for Good or Evil. Sophie is one of the most beautiful girls in Gavaldon, and has her sights set on a life Ever After with her Prince at the School for Good. Meanwhile, Agatha is a loner, who lives on a graveyard, seeking to hide from townspeople who have all but labeled her a witch, and has but one treasure, her unlikely friendship with Sophie. Agatha often mocks Sophie's obsession with becoming a princess, fairytales, and the enigmatic school that she is so certain will choose her for Good. However, they both receive a rude awakening when they're kidnapped, Agatha for Good, Sophie for Evil.
I haven't read a Middle Grade Adventure in a long while, but when I saw this in beautiful hardcover a few years ago, it looked to have that special something that would draw you in.
It has not dissapointed.
Soman Chainani has done a wonderful job of creating a fairytale that both harkens back to folklore that we know and love, whilst also placing his own special signature on it. School for Good and Evil has everything we love about fairytales: castles, glamorous Princesses, magic, fiendish villains, even, Tedros, a handsome prince (the son of King Arthur and Guinevere) who is self assured and soft hearted. Agatha's encounters with the Evers at the School for Good, and Sophie's encounters with the Nevers at the School for Evil are classic. So funny, and full of witty discourse that made the ride such a pleasure, whilst tugging at your heart as they create solid friendships with unlikely players.
What's truly special about this novel is Chainani's attention to friendships and self worth. Whilst Sophie spends much of the novel taking Agatha's friendship for granted, in light of her dreams for a Prince, Agatha's journey is priceless, as she fights to save her friendship, and discovers her purpose as Princess in this grand fairytale. Sophie's dissent into Evil is also engrossing, and made all the more realistic by subtle nuances that make her the perfect villaness to love and hate. Pitting Agatha and Sophie as mortal enemies in the grand scheme of their destiny, however, is priceless. How intriguing is it to explore the journey of best friends who will eventually keep the other from experiencing their happy ending? Awesome!
I truly enjoyed my journey into this witty and imaginative fairytale! It has a timeless quality that will delight readers of any age. I most appreciated the care Chainani has taken to explore the power of self worth. There were moments in the novel where Agatha's struggle to love herself, and appreciate what she has to offer the world mirrored my own struggles, especially as a young girl. I wish I had read this novel when I was in Grade School, as I know I would have taken something so beautiful from it.
If you're a fan of Disney or Once Upon A Time, this will be the perfect series to jump into during the seasons' (OUAT) hiatus.
In a short sidebar, I was privileged to attend BEA this year, and fortunately had the opportunity to meet Soman Chainani in person. In the quickest exchange known to man, I was able inform him , not so subtly, that he rocks, as he autographed a beautiful print spotlighting the glorious finale to the SGE series,
The Last Ever After
arriving in stores on July 21st. Whilst reading I discovered that it will also become a film very soon, but before I could get really nervous, I discovered that Chainani's written the script. Finally! We don't have to fear that a film will be so far from the book that it's incredulous to even call it an adaptation. As you can probably tell, I'm super excited.
Happy Reading!
SUPPER HALL BOOK CLUB TV
***Supper Hall Book Club was inspired by a chapter of the same name in SGE: A World Without Princes, where one of my favorite Nevers, Dot, creates a book club of the same name. Thought it would be the perfect name for the bookish section on my channel and here on Novel Days. All credit goes to Soman Chainani and if there is any copyright infringement involved, I will gladly change the name :-).