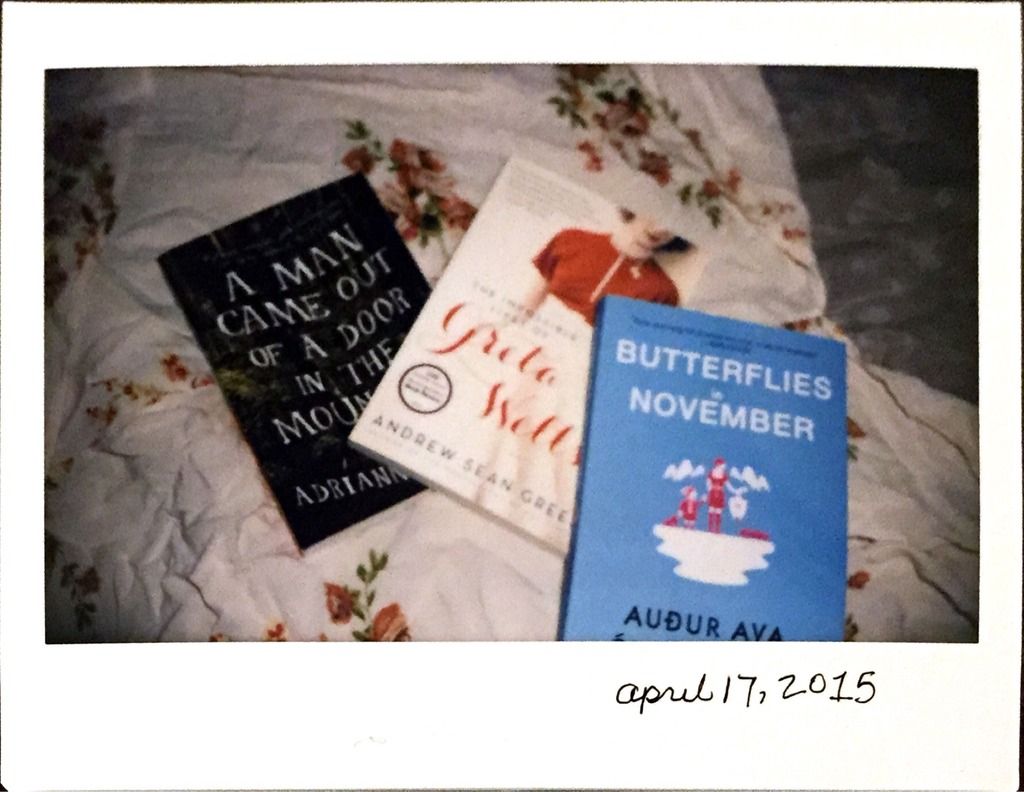 On one of the most pleasant days of the year, I found myself strolling through stacks at Barnes & Noble, Union Square, sipping an Iced Caramel from Panera, happy to see sunlight after so many Friday's spent taking on overtime. My target:
The Impossible Lives of Greta Wells
by Andrew Sean Greer.
From the critically acclaimed author of the New York Times bestseller The Confessions of Max Tivoli comes The Impossible Lives of Greta Wells, a rapturously romantic story of a woman who finds herself transported to the "other lives" she might have lived. After the death of her beloved twin brother and the abandonment of her long-time lover, Greta Wells undergoes electroshock therapy. Over the course of the treatment, Greta finds herself repeatedly sent to 1918, 1941, and back to the present. Whisked from the gas-lit streets and horse-drawn carriages of the West Village to a martini-fueled lunch at the Oak Room, in these other worlds, Greta finds her brother alive and well—though fearfully masking his true personality. And her former lover is now her devoted husband…but will he be unfaithful to her in this life as well? Greta Wells is fascinated by her alter egos: in 1941, she is a devoted mother; in 1918, she is a bohemian adulteress. In this spellbinding novel by Andrew Sean Greer, each reality has its own losses, its own rewards; each extracts a different price. Which life will she choose as she wrestles with the unpredictability of love and the consequences of even her most carefully considered choices?-Amazon
I've signed up with
Bookperks
, who send me daily links of kindle editions that are on sale, and yesterday,
Greta Wells
was one of them. I loved the premise of a woman traveling back in time, and experiencing numerous eras...vintage connoisseur that I am. But what serves to shift the balance a bit are the more harrowing themes of depression and what one seems to be willing to do to alleviate pain. That being said, Andrew Sean Greer seems to be offering Greta Wells a miraculous opportunity at happiness, and judging from reviews I've seen, I'm in for a magical ride. With blurbs from wonderful writers such as Paula McLain praising its wonderful writing, I can't wait. McClain calls it a love letter to Greenwich Village, and I jump at every opportunity for inspiration to drive me deeper into New York City. (Also, Andrew Greer's pretty handsome...am I right?)
After a day of being dumped—twice—and accidentally killing a goose, a young woman yearns for a tropical vacation far from the chaos of her life. Instead, her plans are wrecked by her best friend's four-year-old deaf-mute son, thrust into her reluctant care. But when the boy chooses the winning numbers for a lottery ticket, the two of them set off on a road trip across Iceland with a glove compartment stuffed full of their jackpot earnings. Along the way, they encounter black sand beaches, cucumber farms, lava fields, flocks of sheep, an Estonian choir, a falconer, a hitchhiker, and both of her exes desperate for another chance. What begins as a spontaneous adventure will unexpectedly and profoundly change the way she views her past and charts her future. Butterflies in November is a blackly comic, charming, and uplifting tale of friends and lovers, motherhood, and self-discovery.-Amazon
The wonderful thing about B&N Union Square, is (one) its gargantuan size...Four floors of awesomeness, and (two) tables full of intriguing titles slightly under the radar. Aside from its beautiful title,
Butterflies in November
, the authors name first captured my attention: Auður Ava Ólafsdóttir. I've wanted to read writers from all over the world, and Iceland is a place that fascinates me. A novel that promises a whimsical Icelandic road trip full of zany characters with a thirtysomething in need of a direction shift and a 4 year old deaf-mute boy who has won the lottery...classic. I'm looking forward to this optimistic dream road trip for sure! Not to mention, it's wonderful to experience a European road trip outside of our normal London, Paris, and Amsterdam.
In this mysterious and chilling novel, girls, mostly Native, are vanishing from the sides of a notorious highway in the isolated Pacific Northwest. Leo Kreutzer and his friends are barely touched by these disappearances—until a series of enigmatic strangers arrive in their remote mountain town, beguiling and bewitching them. It seems as if the devil himself has appeared among them. The intoxicatingly lush debut novel by the acclaimed author of The King of Limbo, A Man Came Out of a Door in the Mountain is an unsettling portrait of life in a dead-end town, as seductive and beautifully written as the devil's dark arts are wielded. - Amazon
A Man Came Out Of A Door
In The Mountain
seems the most ominous of all of my discoveries. I've grown into quite the sucker for Southern Noir, and though this Adrianne Harun novel is set in rural British Columbia, the premise reminded me of my Ron Rash short story collections. I love the blending of reality and folklore that seems to permeate literature spotlighting rural towns, and the unspoken "rules of survival" that we outsider readers come to learn as we follow. The premise of aboriginal girls disappearing and the appearance of peculiar strangers that cause frightening outcomes is intriguing...but I also get this image of the horror film The Strangers...so my continued read depends on how fixated on evil the narrative becomes.
What new bookish discoveries have you chanced upon?
Happy Reading Bluestockings!
Tabi no Tame.