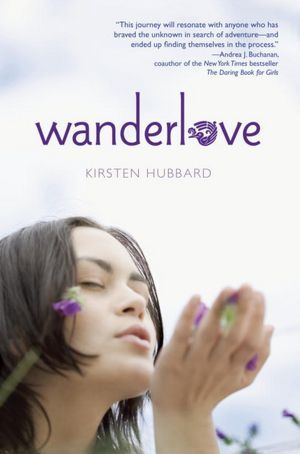 It all begins with a stupid question: Are you a Global Vagabond?
No, but 18-year-old Bria Sandoval wants to be. In a quest for independence, her neglected art, and no-strings-attached hookups, she signs up for a guided tour of Central America--the wrong one. Middle-aged tourists with fanny packs are hardly the key to self-rediscovery. When Bria meets Rowan, devoted backpacker and dive instructor, and his outspokenly humanitarian sister Starling, she seizes the chance to ditch her group and join them off the beaten path.
Bria's a good girl trying to go bad. Rowan's a bad boy trying to stay good. As they travel across a panorama of Mayan villages, remote Belizean islands, and hostels plagued with jungle beasties, they discover what they've got in common: both seek to leave behind the old versions of themselves. And the secret to escaping the past, Rowan's found, is to keep moving forward.
But Bria comes to realize she can't run forever, no matter what Rowan says. If she ever wants the courage to fall for someone worthwhile, she has to start looking back.
Kirsten Hubbard lends her artistry into this ultimate backpacker novel, weaving her drawings into the text. Her career as a travel writer and her experiences as a real-life vagabond backpacking Central America are deeply seeded in this inspiring story.
-Amazon
Wanderlove
by Kirsten Hubbard is simply one of the best books I've read this year. It'll go down as one of my favorite books period. I can already hear you thinking, 'Wow, really?' Perhaps even becoming critical, as I know when someone tells me something like this, I'm ready to crack into a novel with the whip to see if it lives up to these grandiose expectations. But, in my book,
Wanderlove
exceeded my expectations.
It wasn't the novel that I thought it would be, and I can't even truly explain what I thought I would get from it. You know that feeling you get when you're reading a novel that could add something to your life? I got that whilst reading this book, and the last time I got it, was during The Fault In Our Stars by John Green.
Wanderlove takes you on Bria Sandoval's journey through Central America, and more, the journey of learning who she is, both as an individual, and an artist. It's a journey that is as unpredictable as the very Central American Jungles themselves, but is so worth it. I could relate to Bria so much during this journey...her self doubt, battling to break free from boxes that are self imposed, as well as thrust upon her, and her desire to to experience a life changing adventure. This novel deals with subtly heavy themes of manipulation, mental abuse, and abandonment, but is still lighthearted, and has that 'summer' novel feeling. These bits of heaviness added a greater intrigue to the novel that makes you fall in love with Bria, and those she meets along the way.
During this trip she meets, Rowan and Starling, two siblings who are veteran backpackers. Bria and Rowan form an unlikely friendship, and I loved every moment. Even though it can seem predictable what happens between these two, I loved that Hubbard made it a bit unpredictable as well. Their friendship grows so smoothly and realistically. Rowan has his own demons he's running from, and it is shown in every step he makes as he travels. I couldn't help but admire his seeming self sufficiency, and bravery to want to experience every aspect of the culture around him as a local, not a traveller. I was very drawn in by his passion for diving. He brings out Bria's adventurous side, and helps her to see that it's fine to be afraid, but not to allow it to stop her from taking chances. He also helps to reaffirm her artistic self. I loved Starling's personality. She's fiesty, fun, and unwilling to live life on the sidelines. She, in a way, gives Bria this unique opportunity to seize life right in front of her, and I love her for that! I think everyone needs a Rowan and Starling in their lives.
Kirsten Hubbard's writing is so gorgeous, poetic, artful...I was sucked into every single detail of Central America: the island of Belize, the brilliance of Mayan Temples, the calm and feral nature of the Jungle, the beautiful people she meets in Laughingbird Caye, the soft wind that blows in the starlit night as you read in a swinging hammock. The author's own trips seemed to play a huge part in her specificity of setting, which I adore! On top of this, Hubbard shows off her beautiful drawings throughout the novel as Bria chronicles her journey. This aspect made Wanderlove feel like a diary. It also reads like a classic adventure story. By the end of the novel, I couldn't help but feel so excited for Bria!


I'm so happy that instead of buying the Kindle version, I bought the extra special, shiny hardcover novel. I want to take it with me on my own journeys, re-read it, make notes in the margins about writing well, and living life, and literally read until the pages fall away from its binding.


Bare in mind: Wanderlove contains slight profanity and sensuality (nothing graphic).
Wanderlove by Kirsten Hubbard, is a journey of growth, a journal, a work of art, a drawing together of people you would never meet if you never took a chance, a romance that is more than just a romance...its the journey of freedom that we all will (by God's Grace) experience in our lives.
I give Wanderlove by Kirsten Hubbard 5 out of 5 cups of pineapple licuados.
P.S.- Wanderlove is also considered a 'New Adult' novel, as Bria and her friends have graduated high school, and are between the ages of 18 and 30! Pick it up, and lets get more 'New Adult' novels showcased.