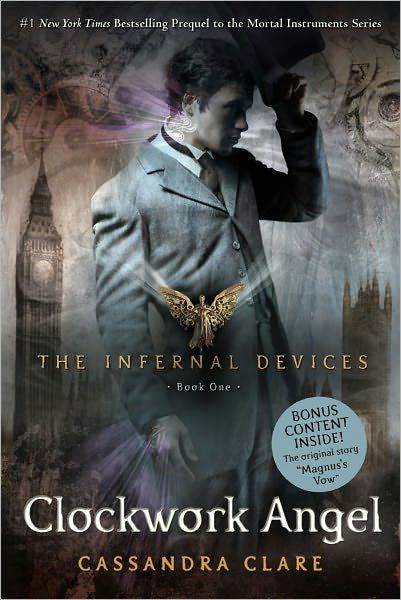 Includes the never-before-seen short story Magnus's Vow! Magic is dangerous—but love is more dangerous still. When sixteen-year-old Tessa Gray crosses the ocean to find her brother, her destination is England, the time is the reign of Queen Victoria, and something terrifying is waiting for her in London's Downworld, where vampires, warlocks and other supernatural folk stalk the gaslit streets. Only the Shadowhunters, warriors dedicated to ridding the world of demons, keep order amidst the chaos. Kidnapped by the mysterious Dark Sisters, members of a secret organization called The Pandemonium Club, Tessa soon learns that she herself is a Downworlder with a rare ability: the power to transform, at will, into another person. What's more, the Magister, the shadowy figure who runs the Club, will stop at nothing to claim Tessa's power for his own. Friendless and hunted, Tessa takes refuge with the Shadowhunters of the London Institute, who swear to find her brother if she will use her power to help them. She soon finds herself fascinated by—and torn between—two best friends: James, whose fragile beauty hides a deadly secret, and blue-eyed Will, whose caustic wit and volatile moods keep everyone in his life at arm's length . . . everyone, that is, but Tessa. As their search draws them deep into the heart of an arcane plot that threatens to destroy the Shadowhunters, Tessa realizes that she may need to choose between saving her brother and helping her new friends save the world. . . . and that love may be the most dangerous magic of all.
-Amazon
(First comment: Every single cover in this trilogy is the stuff of brilliance! I now MUST have each in a brand spanking new hardcover edition!
Clockwork Angel
by Cassandra Clare was my first taste of the 'Steampunk' historical genre, and my initial excitement carried through to the end.
Clockwork Angel
is the story of the young Tessa Gray, who at first believes she is summoned to London by her brother, but discovers an entirely different underworld of supernatural beings. She has powerful abilities that an infamous man, known as the Magister, wants to use for his own evil means. She seeks refuge with Nephilim guardians called Shadowhunters, who protect the human race, and uphold the Covenant Law against all downworlders (e.g. Warlocks, Vampires, Demons, etc). I'll admit that this novel started off a bit slow for my taste, but it is a case where sticking through proves successful.
I really enjoyed discovering this supernatural world with Tessa as secrets surrounding her life begin to surface. I think that she is an intelligent and courageous heroine, and I was rooting for her from the start! The plot of this novel, once it gets going, is pulsing and addictive. It has a great deal of intrigue and tension, and is, no doubt, the reason why Ms. Clare is lauded amongst YA readers. One of the things that Clare accomplishes is creating compelling, character driven plots. Each and every character seemed fully fleshed out through and through. It is unfortunate that this isn't true in all novels I encounter. Such great, humorous, emotional, awesome dialogue! In terms of major characters, Jem is hopeful and thoughtful. He is such a sweetheart in an unfortunate situation, but his courage makes him heroic. He is a perfect balance to the more intense Will. Will is one of the most infuriatingly, sexy, self deprecating characters I've encountered in a long while. I wanted to wring his neck countless times throughout the novel, but even still, he won me over by his wit and sarcasm, but began to make me wonder who he really is beneath it all. During emotional moments, the veil is pulled off (a little bit) of his hardened exterior, making him a bit irresistible. This is one love triangle that is very very challenging to predict; my heart belongs to Jem for his kindness, and tender ways towards Tessa, while Will is challenging, unsettling, and unpredictable, adding something new to this game. The fact that Will and Jem are pretty much blood brothers caught my heart, and I hope that this whole business doesn't drive a wedge between them!
In terms of supporting characters, Charlotte is very confident, and forward, which I adore in a heroine (can I say that Clare has written awesome heroines in this novel!), Henry is the most adorable character of the Lot, Sophie's back story made me cry, Jessamine is both hard to love and hard to hate. In terms of villains, all I'll say is that they are all exquisitely painted. There were moments of abounding eeriness. Conflicts are not resolved by the end of this novel, as it is a trilogy, but it's very engrossing. I couldn't pry myself away from this novel, with wanting to discover how it would play out.
Cassandra Clare is a brilliant writer. The setting of Tessa's Victorian London is beautiful and gothic. It has the right amount of smoke, grimness, and magic! I came away wanting to don beautiful dresses, go on a stroll to the Bridge with Jem, and tinker with little clockwork bits and bobbins. Especially, Tessa's Clockwork Angel necklace which reads as such a beautiful keepsake.
Bare in mind: This novel discusses demons, the occult, and witchcraft. This novel also depicts violence.
Clockwork Angel
is a great novel, with wonderful gothic intrigue, pulsing tension, and a brilliant plot that will no doubt have you clamoring for more. I couldn't shake this story from my mind if I wanted to. I can't wait to start on
Clockwork Prince
.
And have you seen that gorgeous
Clockwork Princess
cover?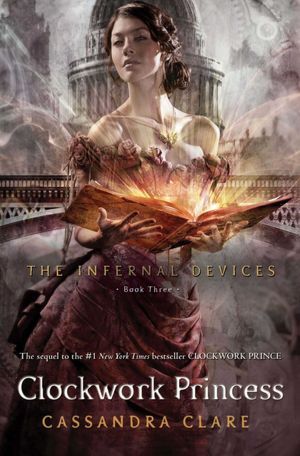 Ladies, you know you want to get all dolled up like Tessa!
And I hope there are some striking gentlemen who want to look the part as well!
I give Clockwork Angel by Cassandra Clare 4 out of 5 cups of English Breakfast Tea.
(p.s. most of the novels I've read this summer has been 4 to 5 cups of tea! Score!)