Releases on July 31st 2012 by Harlequin Teen.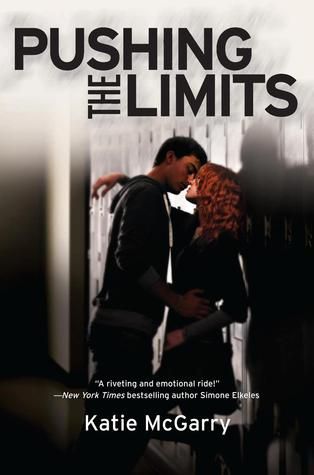 No one knows what happened the night Echo Emerson went from popular girl with jock boyfriend to gossiped-about outsider with "freaky" scars on her arms. Even Echo can't remember the whole truth of that horrible night. All she knows is that she wants everything to go back to normal. But when Noah Hutchins, the smoking-hot, girl-using loner in the black leather jacket, explodes into her life with his tough attitude and surprising understanding, Echo's world shifts in ways she could never have imagined. They should have nothing in common. And with the secrets they both keep, being together is pretty much impossible. Yet the crazy attraction between them refuses to go away. And Echo has to ask herself just how far they can push the limits and what she'll risk for the one guy who might teach her how to love again.
-Amazon
Pushing the Limits
is an awesome debut novel by Katie McGarry! I had a feeling whilst reading the synopsis that I would not be able to put it down, and I wasn't disappointed. Once I started, I fell in love with Echo and Noah. It's everything I adore about YA realistic fiction.
Echo is wonderfully portrayed as a young woman whose life is turned upside down when she experiences a horrific event resulting in scarred arms, but cannot remember the event. Throughout Pushing the Limits, Echo deals with confusion and resentment towards her father and stepmother who protect her from her mother, and want so badly for her to return to her 'normal' self. Her father can seem extremely overbearing in his attempt to push her back into normalcy. On top of all of this, Echo is chosen to tutor Noah, who's known for being a stoner playboy, but is hard to resist.
Noah, more than his stoner reputation, is truly a wonderful character. Having experienced trauma all his own, he lives life with a chip on his shoulder, and wants more than anything to care for his brothers, and have a family again. When he meets Echo, he's automatically attracted to her, but wonders if she is merely one of the populars who cannot possibly relate to what he's experienced.
McGarry paints such a heartwrenching and realistic tale of these two haunted teens that come together after finding the one person who gets it! I can't tell you how much I enjoyed going on this journey with Echo and Noah. The romance between them is passionate, honest, and entertaining. They challenge one another, and blend so well, that I would follow their journey wherever it went. The most profound thing about these two is that they accept each other in the midst of all of the ugly that tends to be more intimidating for those around them.
McGarry has a talent for creating multidimensional major and minor characters that now have a special place in my heart. Noah's friends, Beth and Isaiah, are beautiful as they have also endured harsh realities, and I definitely wanted to delve into their back and future stories. I loved that Echo is a talented artist, and is able to create such beauty in the midst of all the confusion. Noah has such a sincere love for his brothers that he got my heart immediately. McGarry is unafraid to touch on issues of mental illness and how it may or may not relate to art/heredity, and the rawness of feeling abandoned. These facets will definitely be relatable and drawing.
Bare in mind: Pushing the Limit contains profanity, sexual content, and what can be disturbing scenarios.
Pushing the Limits is a great love story with all of the right elements: passion, heartbreak, and mystery. If you love Simone Elkeles, you will LOVE reading Pushing the Limits. Those of you who, like myself, was intrigued by Beth, will be excited to know that she will have her own story called, Dare You To! I'll definitely be on the look out for more exciting stories by Katie McGarry.
I want to give huge thanks to HarlequinTeen for allowing me to have an Advance Reader Copy!
I give Pushing the Limits by Katie McGarry 5 out of 5 cups of Earl Grey.