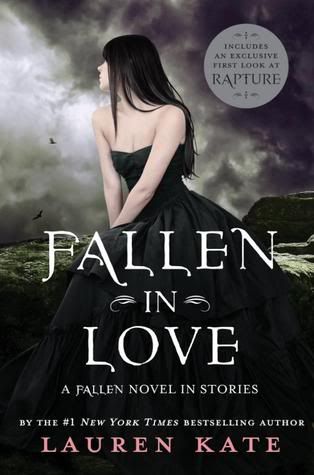 What makes your heart race a little faster? It's FALLEN IN LOVE, four wholly original and romantic new stories collected in a novel set in the Middle Ages by Lauren Kate. FALLEN IN LOVE gives fans the much-talked about but never-revealed stories of FALLEN characters as they intertwine with the epic love story of Luce and Daniel. The stories include: Love Where You Least Expect It: The Valentine of Shelby and Miles , Love Lessons: The Valentine of Roland; Burning Love: The Valentine of Arriane; and Endless Love: The Valentine of Daniel and Lucinda.
-Amazon
Fallen In Love
was a cutesy, heartwarming collection of short stories set on Valentine's Day during the 14th century. I loved the little Valentine's festival tidbits. I believe out of all the stories, I loved Shelby and Miles' bit. Totally cute! Roland's story is my next favorite as it was the most real, and painful. The rest of the stories were a bit (shruggs) to me. Arriane's love story is surprising, and I'll admit that I didn't have any incentive to even begin Daniel and Luce's story. I felt that with
Passion
being centered on their past love affairs, I didn't necessarily want to sit through another past glimpse. I want to get to the future and see how it all concludes.
I love the Fallen series, and like many fans, I can't wait for Rapture to release! But I kind of feel that perhaps Fallen in Love could have been released in e-book form, or even for free, and not pumped up as something that could add more to the series. They were satisfying, but in the end, I totally didn't need to read it. I feel disappointed that I felt this way, as I was uber excited to buy this book! It does offer a sneak peek of Rapture which is glorious.
That being said, Rapture's coming out real soon, dearies, and it will finally be concluded in a stunning finale!
I give Fallen in Love by Lauren Kate 3 and a half cups of Earl Grey.