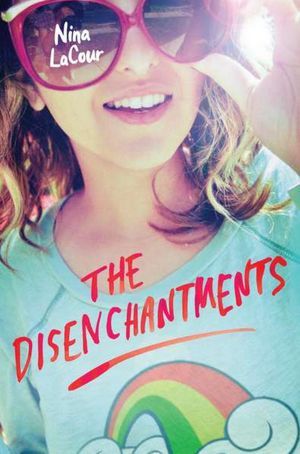 Colby's post-high school plans have long been that he and his best friend Bev would tour with her band, then spend a year in Europe. When Bev announces that she will start college just after the tour, Colby struggles to understand why she changed her mind and what losing her means for his future.
-GoodReads
The Disenchantments
is what I would envision it would be like to watch The Runaways or any of the Riot Grrrl bands just starting out. It's chock full of spinning vinyls, hazy photography, beautiful art, and a vintage VW. It's a very lo-fi novel, very analogue, if I may, and I LOVED the name of this novel! LaCour writes a coming of age story that is fun and exciting, but also filled with the challenges of growing up. I loved that instead of writing the expected, LaCour decided to write of a band that is pretty bad. They know it, and their audience knows it, but what redeems them is their unwavering spirit. Meg, Alexa, and Bev move forward for the experience of it, for fun times, giving it their all!
I adored journeying with Meg, Alexa, Bev, and Colby into quirky towns along the Pacific Northwest. Each and every character held such presence, their own unique colors shined through. LaCour weaves an appreciation for awesome music into the novel, specifically from top female bands like The Supremes, Sleater-Kinney, and Heart. I'll enjoy discovering these artists more fully in the future! The mood of the novel is infectious, and made me want to get on the road, to revel in the unplanned moments, filling my days with photography, great music, and most of all, wonderful people.
The novel takes a serious turn as Bev decides to change plans that she and Colby have been looking forward to since they were children. I'll admit, I found Bev a bit hard to sympathize with, but, thankfully, it became easier for me once the secrets surrounding her decision were revealed. I sympathized most with Colby, and found him to be a great character to experience the novel through. He is a dreamer, who wants so badly to follow a different path from most of his high school peers. I found myself cheering for the entire lot from beginning to end! The novel progresses in such a beautiful way, that by the end, I was filled with the wonder of being young, and the beauty of being able to choose your own path as an adult.
LaCour's writing is beautiful, lush, intricate, the whole gamut! Her own road trips fueled the many experiences, scenes, and characters within the novel. I can't tell you how much more I want to road trip, or something similar, after reading this novel. It's very special.
Bare in mind: This novel contains profanity and slight sexuality.
The Disenchantments is a great novel filled with the magic of forging your own path.
I give The Disenchantments by Nina LaCour 4 1/2 out of 5 cups of Earl Grey.
P.S: CHECK OUT THIS POSTER CREATED FOR THE DISENCHANTMENTS!!!! I WANT ONE!