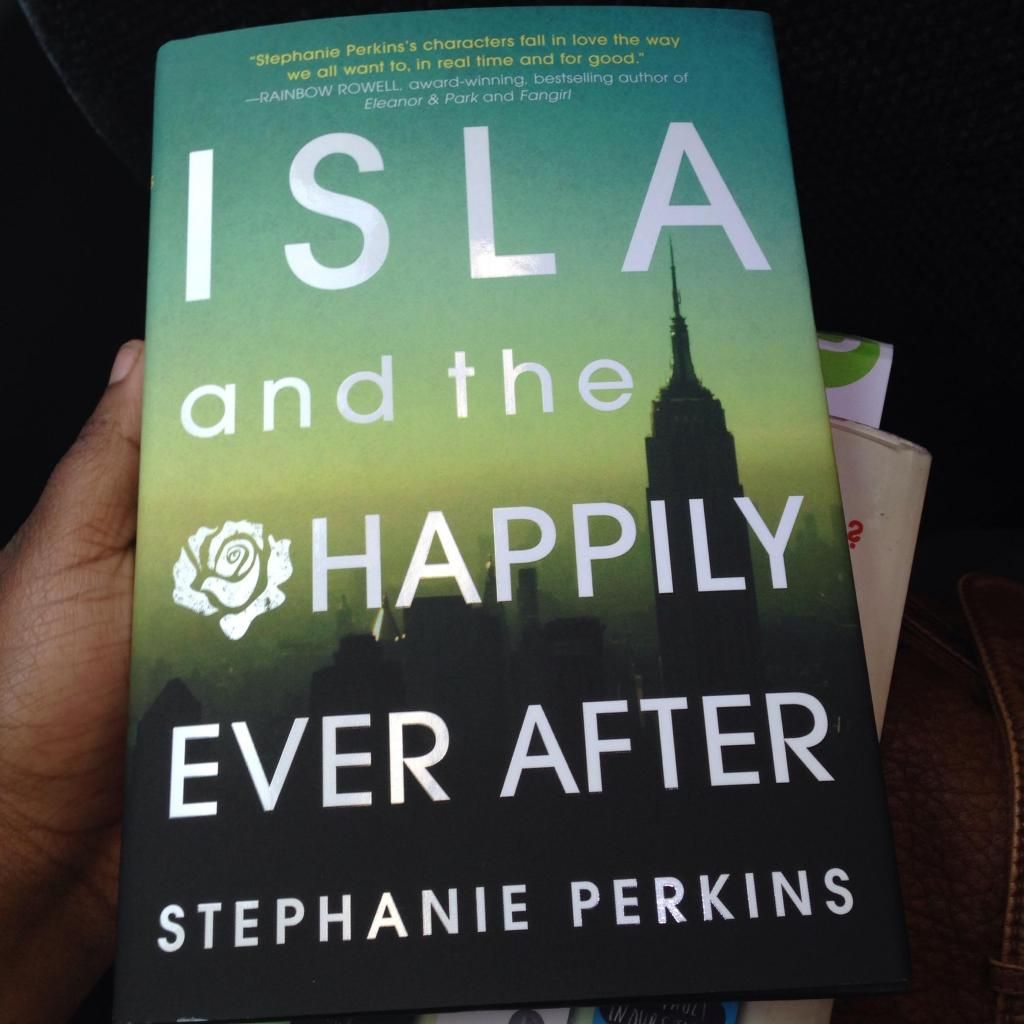 Love ignites in the City That Never Sleeps, but can it last?




Hopeless romantic Isla has had a crush on introspective cartoonist Josh since their first year at the School of America in Paris. And after a chance encounter in Manhattan over the summer, romance might be closer than Isla imagined. But as they begin their senior year back in France, Isla and Josh are forced to confront the challenges every young couple must face, including family drama, uncertainty about their college futures, and the very real possibility of being apart.

Featuring cameos from fan-favorites Anna, Étienne, Lola, and Cricket, this sweet and sexy story of true love—set against the stunning backdrops of New York City, Paris, and Barcelona—is a swoonworthy conclusion to Stephanie Perkins's beloved series.

-Amazon
If you ever find yourself feeling a bit discouraged about dreams or falling in love, or any manner of Monday blues...just open up any Stephanie Perkins novel. When I went to Paris, I felt as if the air itself carried a sort of pheromone rendering everyone enchanted by la vie. Isla encapsulates those feelings.
In
Isla and the Happily Every After,
we finally meet the third and final (?) heroine in Stephanie Perkins' romantic travelogue. Isla is a shy and quirky romantic who gains a shot at a relationship with Josh, the guy she's been dreaming of since she started at SOAP. It's always delightful to learn more about characters we've met in previous novels. Especially when I learned that Josh carries the same affections towards Isla. For a time, Isla and Josh are thrust into a whirlwind of romance, art, and the beauty of taking chances, however, as these moments become slightly unbelievable to Isla, she wonders if it's even real at all.
Josh and Isla's romance is instant, dreamy, and passionate. I share in the opinions of others, to an extent, that it does feel a bit too instant, as opposed to Anna and Lola, which felt balanced over time. That being said, Isla is a genuine romantic, and I'm not sure it would have happened another way. Frankly, as a romantic myself, I cheered that Isla gets this breathtaking romance. I can understand why some would find this to be unrealistic, but I'm of the opinion that for some love is cultivated and steady, whilst for others it may just happen as quickly as an epiphany. I did, however, find them to be a little too angsty at times. Nevertheless, their story, by the end, is so heartwarming.
Isla is something special. I think of a lot of characters I've experienced in novels, she is one of the most like me that I've ever encountered. We both share a love for beauty in art work, and adventurous stories, and curiosities, and fairy lights. I even own my own compass necklace (because one of my own characters owns one in my novel). However, what is more unsettling to admit is that I'm often plagued with a lot of the insecurities that Isla is plagued with. I found myself very surprised and happy that Stephanie Perkins tackles self worth in the way that she does. There are moments where I wanted to shake Isla, but I was stunned because it allowed me to see how insecurity left unchecked can have you fleeing as quickly as your blessing comes for fear that they will leave first. It's awesome to see this in a young adult novel. From the very beginning of the novel, Isla is stuck on Josh JOSH Josh, therefore making it a bit hard to get to know her as a character. After a while it becomes clear that Isla's having issues seeing herself accurately, and I enjoyed the small journey that she goes on to discover herself. I wanted more scenes of self discovery for Isla.
It was wonderful to see Josh away from his fun loving, sidekick persona in Anna. I fell in love with every description of his graphic novel, the fact that he would tackle something so ambitious as to document his entire experience in boarding school. I also found myself inspired to check out a few graphic novels. By the end, I enjoyed Josh' journey towards becoming more dedicated, and seeing things through. Josh is vulnerable, sometimes wearing all of his emotions on his face, and I quite enjoyed this in a male character.
Of the supporting characters, Kurt became a quick favorite of mine, for his ability to be so starkly truthful, and Isla's little sister Hattie for shaking things up, and the wisdom of a short conversation with Isla's former best friend Sanjita.
Bare in mind: Isla and the Happily Ever After contains some sexual content and profanity.
I'm not sure if this is truly the last in Stephanie Perkins' beautiful series ***coughs, Meredith***but I'm a little emotional if it is. It seems I hardly come across series' that are genuine in their portrayals of what could be considered 'cheese' and defiantly hopeful. The moments where we see all of the characters converge in Isla is golden and beautiful...makes me cry! Novels like these remind me why I love reading in the first place, and how very possible it is for fictional characters to transcend the page.