One book. Two readers. A world of mystery, menace, and desire. A young woman picks up a book left behind by a stranger. Inside it are his margin notes, which reveal a reader entranced by the story and by its mysterious author. She responds with notes of her own, leaving the book for the stranger, and so begins an unlikely conversation that plunges them both into the unknown.




The book: Ship of Theseus, the final novel by a prolific but enigmatic writer named V.M. Straka, in which a man with no past is shanghaied onto a strange ship with a monstrous crew and launched onto a disorienting and perilous journey.




The writer: Straka, the incendiary and secretive subject of one of the world's greatest mysteries, a revolutionary about whom the world knows nothing apart from the words he wrote and the rumors that swirl around him.




The readers: Jennifer and Eric, a college senior and a disgraced grad student, both facing crucial decisions about who they are, who they might become, and how much they're willing to trust another person with their passions, hurts, and fears.




S., conceived by filmmaker J. J. Abrams and written by award-winning novelist Doug Dorst, is the chronicle of two readers finding each other in the margins of a book and enmeshing themselves in a deadly struggle between forces they don't understand, and it is also Abrams and Dorst's love letter to the written word.

-Amazon
Dear Blue,
I interrupt your Christmas festivities to bring you one of the most beautiful novels I own. I don't know about you, but I was always the type in college to buy used novels with unabashed glee. The more marks, scribbles, facts, and underlines a book contains, especially of classic books, the more I want it. Sure, I love new books like the next person, but sometimes I like a book to feel lived in like an old pair of jeans. Thankfully, these are always the cheapest! I remember when I was in elementary school, my mom bought me this beautiful hardcover special edition of
The Babysitter's Club
, containing all sorts of Christmas greetings, letters, and pictures to explore. I wore this book out! But I've stumbled upon a grown up version of that wonder. The Cadillac of books, also known as my book boyfriend for the time being (next to
The Giver
).
I knew nothing of
S
, when my book bud, Kate, told me about it, than it's synopsis, and it's aesthetic beauty...but that was enough to make me grab my shopping bag full of pennies, and rush out an acquire it the very next day.
S
is a novel conceived by acclaimed director J.J. Abrams and PEN/Hemingway award nominee Doug Dorst about a fictitious enigmatic author named V. M. Straka and his grand last work,
Ship of Theseus
. The
story
within a story is told through the correspondences written in the margins by Jennifer, and undergrad who discovers said novel in the university library, and Eric, a grad student studying Straka. It seems the authors sought to make
us
characters as well, by creating a physical
Ship of Theseus
, and allowing readers to discover the story and its author, as the characters do. Ambitious and so very awesome. I fell in love with Jen and Eric just by reading their banter on the title page (above).
"What begins at the water shall end there. And what ends there shall once more begin."
S is a book lovers dream come true. Its' publishers managed to recreate the likeness of an old library book, even down to the stamps on the spine and inside covers. It carries the faint fragrance of age. I haven't allowed myself to truly explore the novel yet (as I just purchased it), but the whole concept of it thrills me. It feels like being a part of an epic secret that you get to hold in your hands everyday. Plus how awesome would it be to engage a stranger about books, in the actual book itself?
In speaking with my friend,
Ariel
, who rushed out for his own copy this week, we discussed how publishers are now tasked with the challenge of creating quality physical books in a world practically operating on Whispersync. We chatted about books being a completely immersive experience--not that words necessarily need anything more than life to create a wondrous experience--but that authors/publishers would use other mediums to their advantage to further enhance the text. I'm loving that more authors and publishers are creating such interactive reading experiences by the inclusion of letters, videos, tokens like napkins or maps, or anything to make this conceived world feel even more real. What do you think about these additions? Do they thrill you, or distract you from a novel?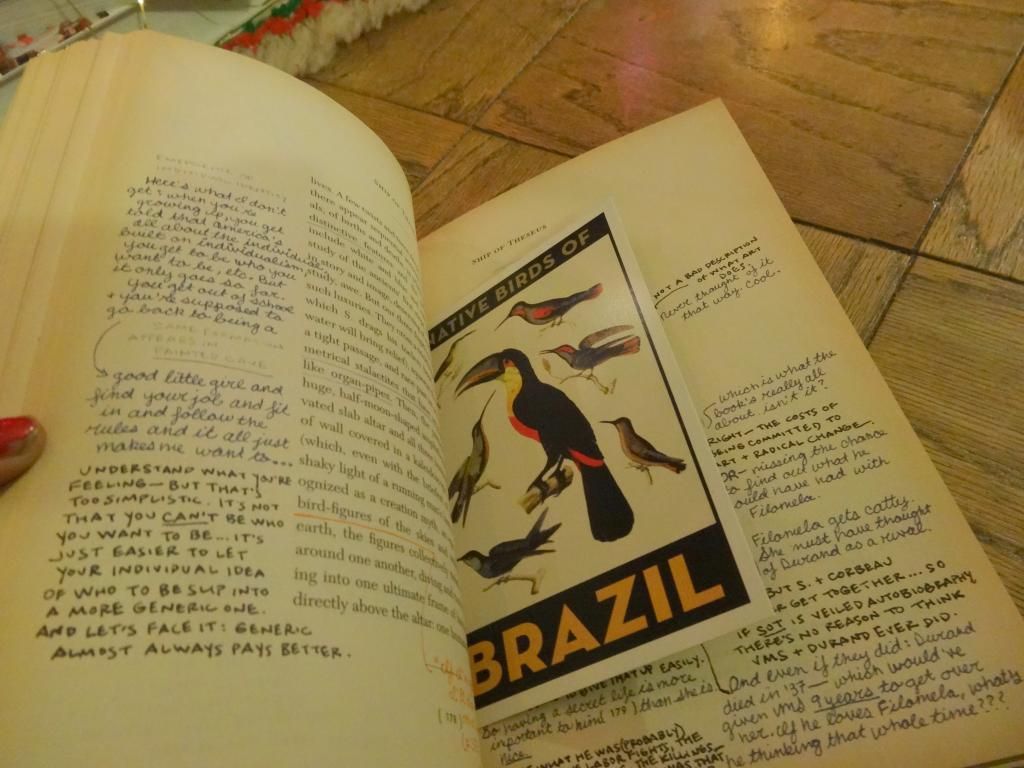 S is a bit pricier than the average, well by a few dollars or so ($28 with a Barnes and Noble discount and 30% off/ $35 without), but on first impressions, I find this to be a magical homage to the beauty words. I can see us fangirling for a while over the bits tucked into these pages.
Hugs, Love, and Unabashed Fangirling,