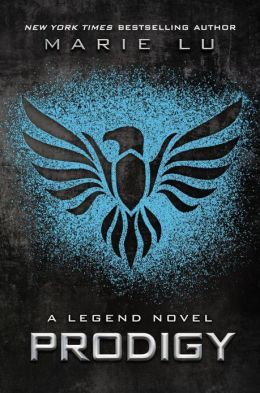 Featured on Entertainment Weekly's MUST-LIST! The highly anticipated second book in Marie Lu's New York Times bestseller, LEGEND—perfect for fans of THE HUNGER GAMES and DIVERGENT! June and Day arrive in Vegas just as the unthinkable happens: the Elector Primo dies, and his son Anden takes his place. With the Republic edging closer to chaos, the two join a group of Patriot rebels eager to help Day rescue his brother and offer passage to the Colonies. They have only one request—June and Day must assassinate the new Elector. It's their chance to change the nation, to give voice to a people silenced for too long. But as June realizes this Elector is nothing like his father, she's haunted by the choice ahead. What if Anden is a new beginning? What if revolution must be more than loss and vengeance, anger and blood—what if the Patriots are wrong?
-Amazon
This freaking novel. This review will either be extremely short because I cannot adequately describe how awesome it is, or really long because all the little bits I love about it have clicked.
Prodigy
is a spectacular sequel to
Legend
. One never knows how a sequel will fare in the wake of a highly anticipated series, but Marie Lu is marvelous.
Prodigy picks up right where Legend leaves off, with Day and June on the run from the Republic. The adventure heightens all the more when they join the Patriots and are asked by the Patriot leader to assassinate newly elected dictator, Anden. As June and Day are separated once more, they both have the opportunity to question where their allegiance truly lies, and whether they're on the right side.
I loved that, instead of making Day and June destined lovers, Marie Lu allows them to stumble through it. They question the good and bad sides of each other, and wonder at times whether they should continue on together. It's so entertaining and heartbreaking at times to read the thoughts that they have, the second guesses, suspicion, etc. I loved June's approach to love. She is so truthful in her opinions that it can be awkward in an awesome way. I find that many of us will relate to her levelheadedness in this area. Meanwhile Day, is overcome with concern for his little brother, June's safety, and his best friend Tess who is an ever present challenge towards his relationship with June.
Of course, I expected to think that Anden is slimy, slippery, and two faced. But he, as of now, is wonderful. I did not expect the quiet sincerity that would come from him, whilst also admiring his attempts at standing his ground in his newfound position as dictator of the Republic. I love when authors throw in such wild card characters! Another character that really rises to the occasion is Kaede. She is a rock star, who seems to be fearless in every respect.
I love that Marie Lu was not afraid of taking action to the hilt in Prodigy. It's great to see female authors unafraid to explore this form of action has hard as any male would. I've never read such smooth, fantastic action sequences in a novel before. The last huge sequence in the novel is not to be missed! Talk about breathless, and rushing to keep up with everything happening. (The Film Better Be Brilliant.)
Bare in mind: Legend contains violence and some sensuality.
I'm still shaking my head in wake of this fantastic novel. Marie Lu gave us a taste with Legend, but she really kicks it up a notch in Prodigy. Nothing is as it seems. Nothing. And that ending? Oh that ending. The only horrible thing is the time we will have to wait until the third novel releases.

I give Prodigy by Marie Lu five out of five cups of Prince of Wales tea...and a fast ride in a jet.