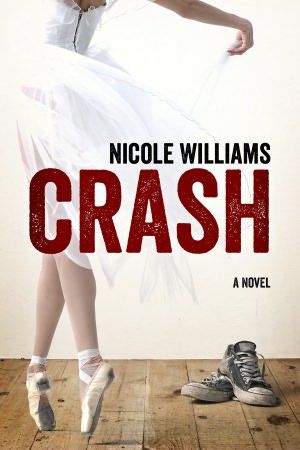 Southpointe High is the last place Lucy wanted to wind up her senior year of school. Right up until she stumbles into Jude Ryder, a guy whose name has become its own verb, and synonymous with trouble. He's got a rap sheet that runs longer than a senior thesis, has had his name sighed, shouted, and cursed by more women than Lucy dares to ask, and lives at the local boys home where disturbed seems to be the status quo for the residents. Lucy had a stable at best, quirky at worst, upbringing. She lives for wearing the satin down on her ballet shoes, has her sights set on Juilliard, and has been careful to keep trouble out of her life. Up until now. Jude's everything she knows she needs to stay away from if she wants to separate her past from her future. Staying away, she's about to find out, is the only thing she's incapable of. For Lucy Larson and Jude Ryder, love's about to become the thing that tears them apart.
-Barnes & Noble
When I encountered
Crash
by Nicole Williams, I'll admit I was excited...but I believed that it would be your regular bad boy meets good girl story. While I was right in my assumption, I was also very surprised at its depth. Lucy is a young dancer with aspirations of attending Juilliard...loads of responsibility. Jude, on the other hand, is a well known delinquent who has no faith that he can override his past. When Lucy and Jude come together, their chemistry sizzles from the very beginning. I love when a novel can make me feel this very early on in the story!
The aspect of Crash that I was surprised about were the happenings that connect both Lucy and Jude together. I did not expect that Jude and Lucy would have to deal with such series issues. Right from the start, Lucy encounters the darker side of his life in stride, but I did enjoy how Williams took them both through a series of trust tests. Lucy does not just fall into Jude's every whim. Jude was an enjoyable character to experience. I will admit that in the beginning to middle, I thought him a bit too self deprecating, however, as the story concluded, his sincerity becomes clear. It was heartbreaking that such a sweetheart could feel this way about himself, and I know that others will fall n love with Jude's sincerity. I also enjoyed Jude and Lucy's journey towards healing and forgiveness.
The only thing I didn't connect with as much in Crash is that I found it a bit brash and raw. This novel is definitely for older readers (late teens and up).
Bare in mind: Crash contains violence, profanity, and sensuality.
Crash
by Nicole Williams was quite a ride, with characters that definitely touched me in the end. I'm looking forward to its sequel,
Clash
!
I give Crash by Nicole Williams 4 out of 5 cups of Irish Breakfast.
PS: I'm sooo sorry that I have been MIA from Novel Days for the past few weeks. I've recently started a brand new job, and so I'm trying to acclimate to my new schedule, as well as prioritize now that my free time is a bit more limited. I'm also coming into the home stretch of the first draft for my New Adult novel...finally (after 5 years). I promise I haven't left! Please bare with me. Thank you all so much for your continued readership! Just think, this means more giveaways!