I was so excited when I bought this novel, I had to take a snap of it while in Starbucks.
In true Clem fashion!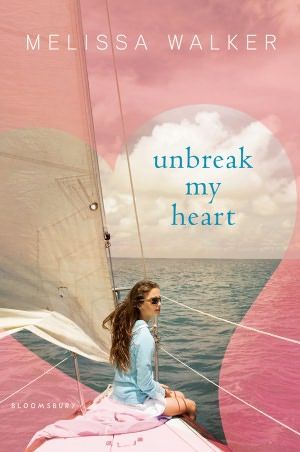 Sophomore year broke Clementine Williams' heart. She fell for her best friend's boyfriend and long story short: he's excused, but Clem is vilified and she heads into summer with zero social life. Enter her parents' plan to spend the summer on their sailboat. Normally the idea of being stuck on a tiny boat with her parents and little sister would make Clem break out in hives, but floating away sounds pretty good right now. Then she meets James at one of their first stops along the river. He and his dad are sailing for the summer and he's just the distraction Clem needs. Can he break down Clem's walls and heal her broken heart? Told in alternating chapters that chronicle the year that broke Clem's heart and the summer that healed it, Unbreak My Heart is a wonderful dual love story that fans of Sarah Dessen, Deb Caletti, and Susane Colasanti will flock to.
-Barnes and Noble
Unbreak My Heart
by Melissa Walker is my first summery novel of the year, and I must say it's a pretty awesome start. I had heard loads of wonderful things about this novel in the blogosphere, and when I saw an autographed copy of it on a visit to Books of Wonder, I couldn't leave it behind. I love the cover, it screams 'summer holiday'!
I had a great experience with this novel. I loved that it isn't a story that is so light it failed to capture my heart, yet, it also isn't a story filled with such angst that I would want to cast it aside!
Unbreak My Heart chronicles the story of Clementine (Clem) Williams, who is pretty much forced to go on a family sailing trip for the entire summer, after having had a massive break with her best friend, Amanda. I truly felt for Clem. She was simply in the wrong place at the wrong time, and it doesn't help that the other party, Ethan (who I will not get into because he's not worth it), is excused. I do not make excuses for Clem as if she is innocent, but delving deeper into her story, I couldn't help but sympathize with her pain. Thankfully, the boating trip couldn't have come at a better time. I love the thought of spending an entire summer boating, and escaping from the world a bit.
I loved the boating world that Melissa Walker's created. Her descriptions gave this aspect of the novel such serenity, and showcased Clem's growth as she gradually heals of her broken heart. During this trip, she meets, James, who is traveling along the same route with his father. James is a charming breath of fresh air that kind of reminded me of the infamous Augustus Waters (The Fault In Our Stars). He's energetic and incredibly optimistic in spite of his own issues. James and Clem have a romance that is almost as theraputic for me as a reader as it is for them. There are no overly dramatic overtures...each moment between them is somehow just right. It's what they both needed. What I also loved about this novel was that it seemed to present a dual sense of what's real and what's false in terms of both of her love interests.
The only thing that made me want to shake Clem was her habit of taking out her frustrations on her family. I think I, her family, and James wanted to snap her out of her moping. I was so excited to see her embrace the summer, no matter how ominous her trip back home seems.
Walker has created a great cast of characters. Clem's little sister, Olive, is so adorable...the perfect picture of the annoying little sister, that you can't help but fall in love with. Clem and Amanda's relationship was very well portrayed, I could tell that they were sisters. Amanda was a little hard for me to connect with. I couldn't tell her intentions, and I did feel that she may have enjoyed having Clem in her shadows. Oh the conflict in female relationships! Ethan...I can only shake my head.
Bare in mind: this novel contains slight profanity.
Unbreak my Heart is a great summer novel that is filled with heartbreaking tension, and yet a freshness that makes you remember to seize each moment, and not allow past failures to cloud your present.
I give Unbreak My Heart by Melissa Walker 5 out of 5 cups of hot cocoa with Jet Puffed marshmallows.