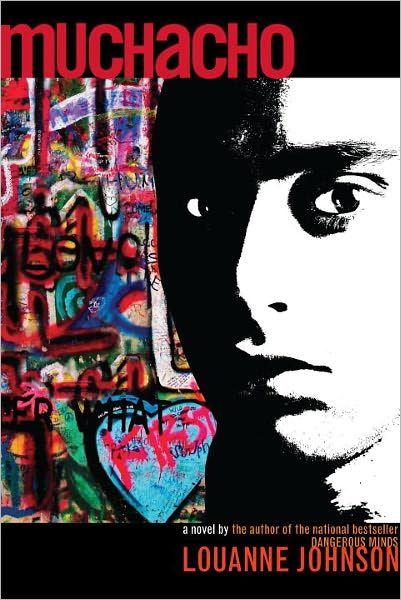 An inspiring YA debut from the author of Dangerous Minds.
Eddie Corazon is angry. He's also very smart. But he's working pretty hard at being a juvenile delinquent. He blows off school, even though he's a secret reader. He hangs with his cousins, who will always back him up—when they aren't in jail.
Then along comes Lupe, who makes his blood race. She sees something in Eddie he doesn't even see in himself. A heart, and a mind, and something more: a poet. But in Eddie's world, it's a thin line between tragedy and glory. And what goes down is entirely in Eddie's hands.
Gripping, thought-provoking, and hopeful, Muchacho is a rare and inspiring story about one teen's determination to fight his circumstances and shape his own destiny.
-GoodReads

Muchacho by Louanne Johnson is surely a positive meal for the soul. I truly loved it, and have officially adopted it into my Bookish Delights Family (books with characters that feel like family members/books I will most likely re-read).
This novel is the main character, Eduardo Corazon's, inner thoughts and musings detailing specific turning points in his life. I found that I was drawn to his narrative voice, the innocence, rawness, and inquisitive side of it. I loved experiencing his evolution from an unmotivated high school student, unwilling to step away from the box of being 'the cool bad boy,' to discovering his love for poetry, ballroom dancing, and the wonderful Lupe. Lupe is such a great character, smart, insightful, and the most confident high schooler. You can see why Eddie is so enamored by her. I loved hearing his thoughts on, Ms. Beecher, the teacher who changes his perspective on school and life. I also enjoyed reading of his experiences with his older cousin, Enrique (Primo), who is often misunderstood, and prone to attracting trouble. Once Eddie discovers his love for the written word, and begins to experiment with it, I fell even more in love with his narrative voice.
If you are a fan of plot driven novels, then this one may not be for you. I'll admit that I was a bit put off by this at first, but as I got to know Eddie, I only wanted more of him, his experiences, and his thoughts about the people around him. Johnson does include scenes, but each one fulfills the particular focus of each chapter, as opposed to novels with filler scenes, and the like. Johnson is such a stellar writer, who made Eddie and his story come alive.
While reading, I felt as if I were given a glimpse of what it must feel like for a teacher to change a student's perspective of the world. I also remembered my days in high school, which were, like Eddie's, very unpromising. I had no idea what life meant outside of those high school walls, and I wondered how I would overcome a place that had no hope for me to do so. I needed this novel when I went to high school, yet everyone, no matter the age, can read this novel and gain positive refreshment.
Muchacho is a coming of age story about a young man who discovers the passion to change his life. It is not to be missed.
I give Muchacho by Louanne Johnson 5 out of 5 cups of Earl Grey, and a plate of enchiladas. (yeah, I said it!)