The Hollow Trilogy is one of those series' where you can gather up your girlfriends for a read in, or even consider something more formal. I've heard of Balls being thrown in celebration of Stephenie Meyer's Twilight Saga, as well as Lauren Kate's Fallen series, and it would be so awesome to have an event planned for this series! Think of it...a masked 18th Century themed ball with costumes, mystery, and intrigue. FABULOUS! Over the next few posts, I'll be highlighting a few crucial accents from The Hollow Trilogy, that can be used to spice up your own book club event!
Autumn Victuals
The Hollow Trilogy is steeped in Autumn. When I read it, I could feel the crisp winds as Abbey takes to the Sleepy Hollow Cemetery, hear the leaves rustling, and smell the spices in the air coalescing with the orange of pumpkins, and reds and golden yellows of the trees. I love Autumn for the tastes that turn up on menus and lead us into Winter Sweets. Here are a few special Autumn treats that are showcased in the series, and would be a cool addition to any Hollow themed celebration:
Abbey's first gift to Caspian is a batch of freshly baked Snickerdoodles wrapped in a fortune cookie box. She later finds out that they are his favorite cookie, and sought to make a perfume of their essence. Snickerdoodles are fragrant cinnamon sugar cookies, that smell and taste of a comforting Autumn's eve. Unfortunately, my first taste of these cookies came from the Archway Farms brand at Target. This year, I'd like to try my hand at baking them, and I can imagine the fragrance that will waft through my home! Jessica Verday was awesome enough to include Abbey's own
Snickerdoodle
recipe. I can't wait to twiddle my baking thumbs and spoil my family with a warm batch of these beauties!
In
The Hidden
, Abbey and Caspian have a bit of fun with Chocolate Chip Cookie dough that is quite cute! There's not much that needs to be said about this delectable treat! As far as I'm concerned, Chocolate Chip Cookies are the very definition of comfort, of home, friends and family. Add an extra flare to your chips by baking festive
Pumpkin flavored Chocolate Chip cookies
. I would never have thought that pumpkin would blend with this classic staple, but imagine the very flavors of autumn meshing with chocolate. Yum! Baking them is the fun part, but, who doesn't get distracted during the process, pull out a teaspoon, and start munching?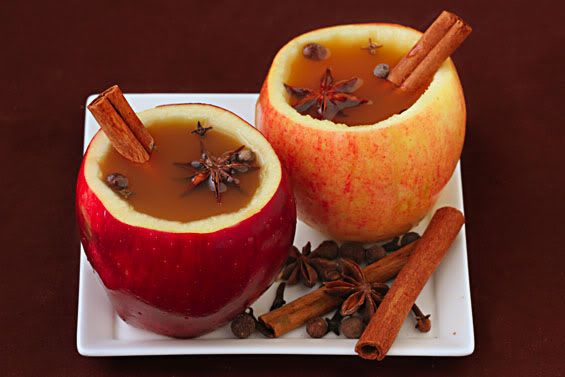 Throughout the series, we observe a few comfy drinks that Abbey indulges in like Spiced Apple Cider, and Vanilla Chai. I've scoured the internet to find interesting Autumn drinks that would set off any Hollow Themed Party.
Apple Cider Cups
seemed a whimsical take on the traditional drink with spices to bring out the richness of the season. One of my all time favorite hot drinks is Chai. It's loaded with cinnamon and cardamom, spices that naturally warm you and make you nostalgic for the Holidays. Here is a recipe for
Vanilla Chai
that seems quite wonderful! Barnes & Noble now sells Starbucks' delicious Chai Concentrate, which let me tell you, is absolutely scrumptious!
Spiced Hot Chocolate
, and the infamous
Pumpkin Spice Latte
are also wonderful additions to any Hollow themed get together.
The Hollow Trilogy
is literally a sensory treasure trove of Autumn loveliness. Reading the series made me want to bake Snickerdoodles, drink my favorite Chai, and sit blanketed with the novels! I hope this article gave you some fun suggestions on, not only how to enliven your Fall season, but also on the foods that would spice up any Hollow Themed get together. Stay-tuned for the next Hollow Celebration Post on Fragrance!
Source:
1
|
2