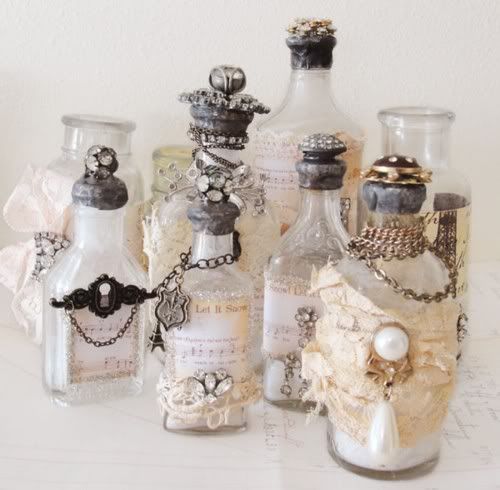 Jessica Verday imbibed the sense of smell within the novel as beautifully as her descriptions of the wondrous Sleepy Hollow itself. Much of the enchanting aura surrounding this trilogy is wrapped in Abbey's passion for infusing the people and places that mean so much to her into little amber vials. Each character embodies a scent uniquely theirs: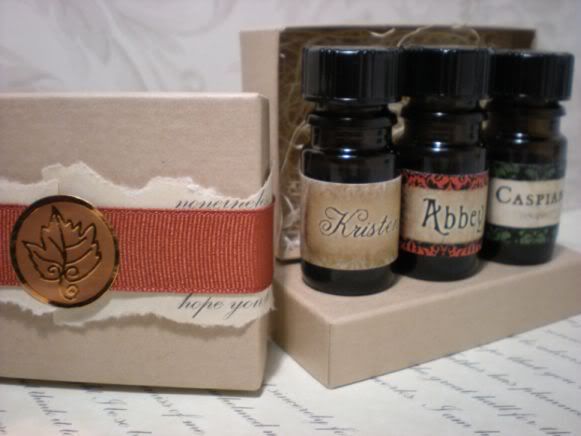 Abbey
is a blend of fruits and spices: blood oranges, apples, and honey, mixed with heady incense and sandalwood.
Caspian
embodies Autumn with bits of Pumpkin Pie, fallen leaves, vanilla, and the rich scents of a crackling bonfire and the surrounding wood.
Kristen
is a plethora of flavors, grapefruit mixed with the homey smells of buttercream and honey. Redolent scents of myrrh and sweet musk are added for the perfect bit of of mystery.
Jessica Verday's even layered scents for our favorite Legend characters,
Katrina Van Tassel
being warm and sweet,
Nicholas
, also known as the Headless Horseman, being sweet and yet woodsy and dark,
Ichabod Crane
being natural and earthy, and
Brom Bones
epitomizing the woods.
Incorporate the Fragrances represented in The Hollow Trilogy by allowing guests to try their hand at blending scents. Jessica Verday's made Abbey's dream of owning a perfume shop come to life with this online treasure trove.
Abbey's Hollow
stocks
pocket perfumers kits
themed according to Fruity, Spicy, and Bakery fragrances. I find myself going back and forth between Spicy and Bakery, as I adore warm, enigmatic scents! These wonderful additions to any Hollow fan's collection retails at $25, and is perfect for someone wanting to discover their own stories through fragrance. Steep your environment in scents that evoke the very essence of Autumn with a bit of hidden mystique: apples, woods, cedar, musks, vanilla and other scents that bring to mind the comfort of baking and crisp walks through woodlands.
I hope that you've enjoyed The Hollow Trilogy Celebration here at Novel Days! Thanks for celebrating with me, please feel free to comment to your hearts content!