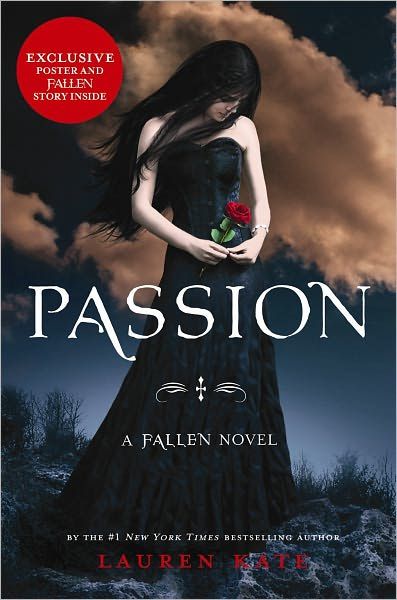 Luce would die for Daniel.
And she has. Over and over again. Throughout time, Luce and Daniel have found each other, only to be painfully torn apart: Luce dead, Daniel left broken and alone. But perhaps it doesn't need to be that way. . . .
Luce is certain that something—or someone—in a past life can help her in her present one. So she begins the most important journey of this lifetime . . . going back eternities to witness firsthand her romances with Daniel . . . and finally unlock the key to making their love last.
Cam and the legions of angels and Outcasts are desperate to catch Luce, but none are as frantic as Daniel. He chases Luce through their shared pasts, terrified of what might happen if she rewrites history.
Because their romance for the ages could go up in flames . . . forever.
Sweeping across centuries, PASSION is the third novel in the unforgettably epic FALLEN series.
-Barnes & Noble
Daniel's love for her was one long, uninterrupted stream. It was the purest form of love there was, purer than even the love Luce returned. His love flowed without breaking, without stopping. Whereas Luce's love was wiped clean with every death, Daniel's grew over time, across all eternity. How powerfully strong must it be by now? Hundreds of lifetimes of love stacked one on top of the other? It was almost too massive for Luce to comprehend.
-Passion- Lauren Kate
First Review at Novel Days!

I give Passion 5 out of 5 cups of Earl Grey.
Passion by Lauren Kate was a thoroughly awesome read! This novel takes us on an epic journey through each of Luce's lifetimes in order to discover a deeper sense of Daniel's love, and more importantly, why she's cursed.
Lauren Kate takes us on quite a journey: 18th Century Versailles, Ancient Egypt, Shakespearean England... each lifetime carries such exquisite details that I found myself pulled in to each world. Oh the research she must have taken on in order to make each era shine in authenticity! One of my favorite era's/cultures that she tackles is that of the Mayan Civilization. It was an ambitious feat to not only write of lives from the beginning of time, but to also take her characters out of the Western World. I will admit that in the beginning chapters I wondered how Kate would cause Luce to gain a more personal tie with her past lives, but let me tell you, she does not disappoint!

Another interesting facet is how Kate manages make Luce's character strikingly different in each era. It would have been too easy (and pretty boring), to have the Luce we adore showcased identically to her present self. I got a kick out of her past lives in Helston, and Shakespearean England. Of the three novels, Passion marks the beginning of the series coming into its own. Kate shines in taking bits of Biblical History along with literature, to create her own mythology. I definitely see Paradise Lost as a continual influence woven quite magically throughout.
Luce and Daniel's romance is truly one of the most stirring in YA fiction at present. Throughout the book, I felt each little stirring of awareness that Luce has of Daniel's love for her...it's simply lovely. I felt every crashing moment of defeat as well, however there's always the sense that their love will overcome all obstacles.
In the midst of discovering each of Luce and Daniel's lifetimes, we also gain greater insight into choice characters in the angelic cast. I most enjoyed reading about Cam's descent, and learning that our little cheeky angel has a soft spot. Kate's characters never fail to be multidimensional and full of intrigue.
As I approached the end of the novel, I couldn't even stop to get myself a glass of water. It was one of those moments where you hold you breath and take in what's about to happen. Bottom line, the countdown is on for our two love birds, and I can't wait for Rapture, which hits bookstores in Spring 2012.