The Strand Bookstore is one of the greatest literary landmarks in New York City. It boasts 18 miles of books, and is a dreamland to anyone seeking safe haven amongst books at affordable prices. It's one of my favorite places in the world and this feature will celebrate hauls collected from the Strand.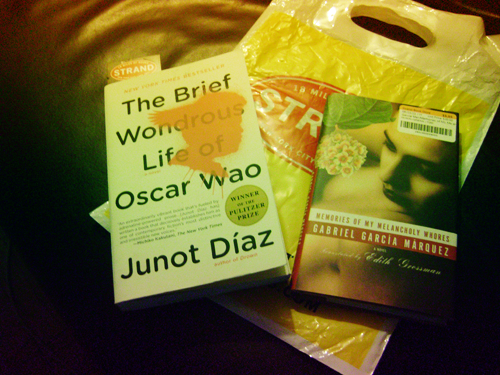 The Brief and Wondrous World of Oscar Wao by Junot Diaz
This is the long-awaited first novel from one of the most original and memorable writers working today.
Things have never been easy for Oscar, a sweet but disastrously overweight, lovesick Dominican ghetto nerd. From his home in New Jersey, where he lives with his old-world mother and rebellious sister, Oscar dreams of becoming the Dominican J. R. R. Tolkien and, most of all, of finding love. But he may never get what he wants, thanks to the fukú – the curse that has haunted the Oscar's family for generations, dooming them to prison, torture, tragic accidents, and, above all, ill-starred love. Oscar, still waiting for his first kiss, is just its most recent victim.
Diaz immerses us in the tumultuous life of Oscar and the history of the family at large, rendering with genuine warmth and dazzling energy, humor, and insight the Dominican–American experience, and, ultimately, the endless human capacity to persevere in the face of heartbreak and loss. A true literary triumph, The Brief Wondrous Life of Oscar Wao confirms Junot Diaz as one of the best and most exciting voices of our time.
During my Junior year in college, I was privileged to read Drown, a collection of short stories by Junot Diaz. I was, again, surprised to like this set of phenomenal short stories about the lives of dominican youth striving to stay above ground. His prose contained facets of surreality which really elevated each moment into something beautiful and haunting. So I thought, why not try his first novel on for size. This New York Times Bestselling, Pulitzer Prize winner should be the cherry on top of Diaz' literary ice cream cake. We shall see!
Memories of My Melancholy Whores by Gabriel Garcia Marquez
On the eve of his ninetieth birthday a bachelor decides to give himself a wild night of love with a virgin. As is his habit–he has purchased hundreds of women–he asks a madam for her assistance. The fourteen-year-old girl who is procured for him is enchanting, but exhausted as she is from caring for siblings and her job sewing buttons, she can do little but sleep. Yet with this sleeping beauty at his side, it is he who awakens to a romance he has never known.
Tender, knowing, and slyly comic,

Memories of My Melancholy Whores

is an exquisite addition to the master's work.
I've wanted to read some of Gabriel Garcia Marquez for a while, and when I spotted this, I thought...ahh, gritty! Really? I just find stories where the protagonist seeks out to get into something disheartening, and in the end discovers something life change, very intriguing. Hope I come away with sparks!