All I need is a beautiful sunset, cup of tea, and a Supernatural romance to have a great evening! Young Adult Supernatural romance has some awesome talents popping up that I don't hear often enough. I adore Edward and Bella, but there are three couples that have slipped into my heart, and take my stamp of approval for Couples of Intrigue.
(Note: I have tried not to include any spoilers, but some may have slipped.)
"When Abbey's best friend, Kristen, vanishes at the bridge near Sleepy Hollow Cemetery, everyone else is all too quick to accept that Kristen is dead?and rumors fly that her death was no accident. Abbey goes through the motions of mourning her best friend, but privately, she refuses to believe that Kristen is really gone. Then she meets Caspian, the gorgeous and mysterious boy who shows up out of nowhere at Kristen's funeral, and keeps reappearing in Abbey's life. Caspian clearly has secrets of his own, but he's the only person who makes Abbey feel normal again...but also special.
Just when Abbey starts to feel that she might survive all this, she learns a secret that makes her question everything she thought she knew about her best friend. How could Kristen have kept silent about so much? And could this secret have led to her death? As Abbey struggles to understand Kristen's betrayal, she uncovers a frightening truth that nearly unravels her one that will challenge her emerging love for Caspian, as well as her own sanity."
The Hollow (Barnes & Noble)
Abbey and Caspian- The Hollow Series by Jessica Verday
I believe that The Hollow series has to be the most underrated series in YA Supernatural Fiction of late. The story is such a beautifully haunting tale of a young woman in love with this enigma. This series is a bit of a wild card, in that it isn't as predictable as many series' of this nature tend to be. I had no idea what Caspian's circumstances were until I reached the very end of The Hollow. I found it to be very fresh and imaginative! As I read through the first novel, I felt like Caspian and Abbey seemed a little awkward, but as I continued to read it became more and more of a joy to witness their growth. Caspian is refreshing because he, though mysterious, comes across as a regular guy. He's honest, sincere, with a bit of a dark side, but nothing too overwhelming. The Hollow might seem a bit slow, but continue reading! It's worth discovering the surprise ending and moving forward to The Haunted, where Abbey and Caspian's relationship really blossoms! The second novel gives readers what we craved in the first, more information about Caspian, more romance, and more juicy bits of tension!
What continues to draw me again and again is how Verday intermingles her own envisioning of Sleepy Hollow and that of Washington Irving's The Legend of Sleepy Hollow. Every page seems alive with historical intrigue, and gothic themes. I consider a novel of special note when I'll read it to inhale small facets like Abbey's perfuming abilities. I love when a storyteller takes time to truly develop their characters and surroundings. The third and final novel of the series, The Hidden, hits bookshops on September 9th! I'm brimming with excitement. This is one I'll definitely be picking up in all of it's hardcover glory!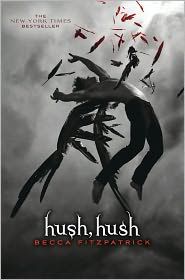 For Nora Grey, romance was not part of the plan. She's never been particularly attracted to the boys at her school, no matter how much her best friend, Vee, pushes them at her. Not until Patch came along.
With his easy smile and eyes that seem to see inside her, Nora is drawn to him against her better judgment.
But after a series of terrifying encounters, Nora's not sure who to trust. Patch seems to be everywhere she is, and to know more about her than her closest friends. She can't decide whether she should fall into his arms or run and hide. And when she tries to seek some answers, she finds herself near a truth that is way more unsettling than anything Patch makes her feel.
For Nora is right in the middle of an ancient battle between the immortal and those that have fallen - and, when it comes to choosing sides, the wrong choice will cost her life.
Hush, Hush (Barnes & Noble)
Patch and Nora- The Hush, Hush series by Becca Fitzpatrick
Hush, Hush is slowly but surely rising to Twilight status. Finally the world of supernatural YA fiction turns it's sights to another enigmatic being: Angels. I was pulled into to the story immediately. Patch shines as one of the cheekiest, sexiest Angels written (and it even feels wrong to use the words 'sexiest' and 'Angel' in conjunction with one another). Nevertheless, it's so easy to fall for him! Fitzpatrick manages to create an entire angelic world in Amusement parks and pubs that are under the radar: seriously interesting stuff! Nora and Patch (hate to be cliche) are sizzling, and you want to follow them wherever their story leads. I give thumbs up to both Hush, Hush and Crescendo! I'm looking forward to Silence, the third and final novel in the series which comes out on October 4th!
There's something achingly familiar about Daniel Grigori.
Mysterious and aloof, he captures Luce Price's attention from the moment she sees him on her first day at the Sword & Cross boarding school in sultry Savannah, Georgia. He's the one bright spot in a place where cell phones are forbidden, the other students are all screw-ups, and security cameras watch every move.
Even though Daniel wants nothing to do with Luce--and goes out of his way to make that very clear--she can't let it go. Drawn to him like a moth to a flame, she has to find out what Daniel is so desperate to keep secret . . . even if it kills her.
Dangerously exciting and darkly romantic,

Fallen

is a page turning thriller and the ultimate love story.
Fallen (Barnes & Noble)
Luce and Daniel- The Fallen Series by Lauren Kate
Once again, a writer, intrigued with Angels, weaves and entire saga around the epic love story of a fallen Angel and a human. From the beginning, the novel has this haunting quality that pulls you in. There's something so beautiful about the story of an angel falling in love with this girl who comes back to life several generations and dies each time. Daniel is such a wild card: haunting, sarcastic, and totally uninterested...so he seems. I wanted to punch him in the face, and have a heart to heart with him at the same time. Kate knows how to make a reader swoon from the romance, and tense from the lengths each Angelic being goes through to capture Luce. It's such an epic adventure that everyone should experience.
These three series' continue to mystify me, and if you love Supernatural fiction, you will devour these novels!